Thom interviewed in NH
Thom interviewed in NH
Jan. 14, 2008 9:09 pm
Thom interviewed at Radio Row on Primary Day in NH by "The Real News" folks.
Nov. 26, 2014 6:15 am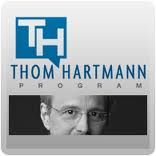 Without immediate global action on climate change, today's teenagers will be forced to live with the consequences of our inaction. The World Bank has issued their third report of climate change, and it says that global temperatures could rise by as much as 4 degrees Celsius by the time today's teens hit their 80th birthday.

Images of Thom
From Cracking the Code:
"No one communicates more thoughtfully or effectively on the radio airwaves than Thom Hartmann. He gets inside the arguments and helps people to think them through—to understand how to respond when they're talking about public issues with coworkers, neighbors, and friends. This book explores some of the key perspectives behind his approach, teaching us not just how to find the facts, but to talk about what they mean in a way that people will hear."
—
Paul Loeb
,
author of Soul of a Citizen
From The Thom Hartmann Reader:
"Thom Hartmann is a creative thinker and committed small-d democrat. He has dealt with a wide range of topics throughout his life, and this book provides an excellent cross section. The Thom Hartmann Reader will make people both angry and motivated to act."
—
Dean Baker
,
economist and author of Plunder and Blunder, False Profits, and Taking Economics Seriously
From The Thom Hartmann Reader:
"Through compelling personal stories, Hartmann presents a dramatic and deeply disturbing picture of humans as a profoundly troubled species. Hope lies in his inspiring vision of our enormous unrealized potential and his description of the path to its realization."
—
David Korten
,
author of Agenda for a New Economy, The Great Turning, and When Corporations Rule the World
Latest From The Community
Latest Forum Posts
Latest Member Blogs
Thom Hartmann Newsletter
Don't miss out again. Receive our daily rundown of news, show highlights and random musings.
© 2014 Mythical Intelligence, inc. • Drupal site designed and maintained by
HollyIT