Thursday's Radio Show

Monday-Friday
noon-3:00 pm eastern
Tune in on satellite radio at SiriusXM Progress 127
Join Thom in our chatroom during the program!
Missed the live program?
Subscribe to Thom's podcast
Coming Up Today on The Thom Hartmann Program - Your Home for The Resistance:
- FDR: "We are steering on a steady course toward economic oligarchy...if we are not there already."
- Trump Appoints Foxes to Watch Henhouse
- Will Congress Finally Help Fix #FlintWaterCrisis? Congressman Dan Kildee (D-MI, 5th District)
...LIVE from Washington, DC starting at 12pm Eastern...
Call in Live!
(202) 808-9925
Daily Poll
Yes! News is Dead....
90%
No! There is no line here.....
10%
Thursday's TV Show

Monday-Friday
7:00 pm-10:30 pm eastern
Be sure to join Thom in our chatroom during the program!

Our newest video is here! Watch RESTORATION - plus check out CARBON, LAST HOURS & GREEN WORLD RISING - narrated by Leonardo DiCaprio & Thom Hartmann, directed by Leila Conners
BIG PICTURE POLITICS PANEL: Wage Hating Burger Czar As Labor Secretary?
- Sam Sacks, The District Sentinel
- Angela Morabito, StandUnited.org
BIG PICTURE INTERVIEW: Democracy Against Neoliberalism - Professor Cinzia Arruzza, The New School/Eugene Lang College
BIG PICTURE FACT: November Is Hottest On Record...Sorry, Fake News Fans....
...LIVE from Washington, DC starting at 7pm Eastern...
Latest From The Big Picture
28:30
In tonight's Politics Panel, Thom talks with Co-Founder of The District Sentinel Sam Sacks and Angela Morabito of StandUnited.org about Trump's controversial Labor Department pick, his EPA nominee who doesn't believe in global warming, and his attack on free speech. Thom then talks with Assistant Professor of Philosophy and Director of Undergraduate Studies at the New School for Social Research Cinzia Arruzza about her new piece in Jacobin Magazine.
For more information on the stories we've covered visit our websites at thomhartmann.com - freespeech.org - and RT.com. You can also watch tonight's show on Hulu - at Hulu.com/THE BIG PICTURE and over at The Big Picture YouTube page. And - be sure to check us out on Facebook and Twitter!
Dec. 8, 2016 2:20 pm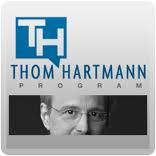 You need to know this....

So far, Donald Trump's choice of cabinet members has been - well - deplorable.

He's picked someone who wants to privatize Medicare to oversee Medicare as his secretary of Health and Human Services.

He's picked a bankster who foreclosed on a 90-year-old over a 27 cent underpayment to oversee banksters as his Treasury Secretary.