Today's Radio Show

Monday-Friday
noon-3:00 pm eastern
Tune in on satellite radio at SiriusXM Progress 127
Join Thom in our chatroom during the program!
Missed the live program?
Subscribe to Thom's podcast
Coming up today on The Thom Hartmann Program:
- Why Are Poor Black Kids Being Punished More Than Rich White Banksters?
- The World Would Not Exist If Everyone Ate Like Americans - Alex Orlov, Mic
- Walking the Picket Line With Verizon Workers - Congressman Mark Pocan (D-WI, 2nd District)
- Shame on Trump / PLUS, Why is Trump Surprised When Violence Erupts at His Rallies?
- Tell the Senate to Pass the Email Privacy Act AS IS!! Congressman Jared Polis (D-CO, 2nd District)
Call in Live!
(202) 536-2370
Daily Poll
Yes!
96%
No!
4%
There is no such thing as climate change...
0%
Today's TV Show

Monday-Friday
7:00 pm-8:00 pm eastern
Be sure to join Thom in our chatroom during the program!

Our newest video is here! Watch RESTORATION - plus check out CARBON, LAST HOURS & GREEN WORLD RISING - narrated by Leonardo DiCaprio & Thom Hartmann, directed by Leila Conners
BIG PICTURE RUMBLE:
- Scott Greer, The Daily Caller
- Max Blumenthal, Alternet/The 51 Day War/RT America
- Charles Sauer, The Market Institute
BEST OF THE REST: Is Debbie Wasserman Schultz Getting Dropped? Michael Winship, Moyers & Company/Writers Guild of America East
PLUS, The Koch Bros Right Wing Lab - Alex Kotch PhD, Independent Reporter
DAILY TAKE: Did the Fossil Fuel Industry Bring Us to the Point of No Return?
...LIVE from Washington, DC starting at 7pm Eastern...
Latest From The Big Picture
57:38
Tonight's Politics Panel discusses the people Bernie selected for the DNC Platform Committee, whether the DNC Convention will in fact be "messy," and Trump bringing up old Clinton conspiracy theories. In tonight's Conversations with Great Minds Thom discusses the progressive movement with Jim Hightower, author of the book "Swim against the Current: Even a Dead Fish Can Go With the Flow."
For more information on the stories we've covered visit our websites at thomhartmann.com - freespeech.org - and RT.com. You can also watch tonight's show on Hulu - at Hulu.com/THE BIG PICTURE and over at The Big Picture YouTube page. And - be sure to check us out on Facebook and Twitter!
May. 25, 2016 2:39 pm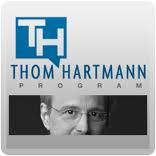 A new poll shows that two-thirds of all Americans would struggle to cover $1,000 crisis.

According to this poll by the NORC Center for Public Affairs Research, this type of crisis spans all incomes.