Today's Radio Show

Monday-Friday
noon-3:00 pm eastern
Tune in on satellite radio at SiriusXM Progress 127
Join Thom in our chatroom during the program!
Missed the live program?
Subscribe to Thom's podcast
Coming Up Today on The Thom Hartmann Program - Your Home for The Resistance:
- Is Trump About to Start the 2nd GOP Great Depression & WW3?
- Should Trump Continue to Use Taxpayer's Money to Bribe Companies to Stay Here? Steve Beaman
...LIVE from Washington, DC starting at 12pm Eastern...
Call in Live!
(202) 808-9925
Daily Poll
Yes! News is Dead....
94%
No! There is no line here.....
6%
Tuesday's TV Show

Monday-Friday
7:00 pm-10:30 pm eastern
Be sure to join Thom in our chatroom during the program!

Our newest video is here! Watch RESTORATION - plus check out CARBON, LAST HOURS & GREEN WORLD RISING - narrated by Leonardo DiCaprio & Thom Hartmann, directed by Leila Conners
BIG PICTURE POLITICS PANEL: Why the MI Electors Should Not Be Counted On Dec 18th
- Anya Parampil, RT America
- Siraj Hashmi, Red Alert Politics
BIG PICTURE INTERVIEW: How This Gilded Age Will Be Like the Last One - Richard Eskow, The Zero Hour (radio)/Campaign for America's Future
BIG PICTURE FACT: Here's How Animal Agricultural Has Destroyed Our Water...
...LIVE from Washington, DC starting at 7pm Eastern...
Latest From The Big Picture
11:50
Big Picture Politics Panel: Anya Parampil, RT America & Siraj Hashmi, Red Alert Politics. With recount efforts now underway in Michigan - election officials have discovered something strange going on in Wayne County, the home of Detroit, and the largest single county in the state. In hundreds of precincts, there appear to be discrepancies between the number of ballots issued on election day and the number of ballots recorded in voting machine printouts, probably caused by electronic vote counting machines not working properly in poor neighborhoods on Election Day. Such widespread problems with electronic machines is a big enough story on its own, but what makes this a bigger deal is a Michigan law that says precincts with discrepancies between issued ballots and recorded ballots are ineligible for a statewide recount. As the Detroit News reports, this means that, "One-third of precincts in Wayne County could [now] be disqualified from an unprecedented statewide recount… Most of those are in heavily Democratic Detroit, where the number of ballots in precinct poll books did not match those of voting machine printout reports in 59 percent of precincts." Why should anyone accept the results?
For more information on the stories we've covered visit our websites at thomhartmann.com - freespeech.org - and RT.com. You can also watch tonight's show on Hulu - at Hulu.com/THE BIG PICTURE and over at The Big Picture YouTube page. And - be sure to check us out on Facebook and Twitter!
Dec. 6, 2016 2:24 pm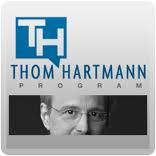 Dear Friend,

Thanks to the incredible generosity of some anonymous donors, YOUR DONATION WILL DOUBLE! This is the new LEAD WITH LOVE MATCH. Now, through the end of our Winter Pledge Drive, your donations to Free Speech TV will be matched, dollar for dollar, literally DOUBLING the amount of your support!