Friday's Radio Show

Monday-Friday
noon-3:00 pm eastern
Tune in on satellite radio at SiriusXM Progress 127
Join Thom in our chatroom during the program!

Be sure to check out our new videos: CARBON & LAST HOURS
- both narrated by Leonardo DiCaprio
Hour One: Brunch With Bernie - Senator Bernie Sanders (I-VT) takes your calls
Call in Live!
1-866-987-THOM (8466)
1-866-745-CONS (2667)
+ 44 870 974 9686
Daily Poll
YES! And it's happening now in Republican-controlled states.
69% (9 votes)
YES! Go to gregpalast.com for more information.
31% (4 votes)
Total votes: 13
Friday's TV Show

Monday-Friday
7:00 pm-8:00 pm eastern

Be sure to check out our new videos: CARBON, LAST HOURS & GREEN WORLD RISING - narrated by Leonardo DiCaprio
NEED TO KNOW: Ebola...science vs. scaremongering - Professor Lawrence Gostin, Georgetown University Law Center
BIG PICTURE RUMBLE:
- Scott Greer, The Daily Caller
- Medea Benjamin, Global Exchange / CODEPINK
- Peter Roff, U.S. News & World Report
BEST OF THE REST: Halloween myths, masks and legends - Dr. Stephen Larsen, Center for Symbolic Studies / Stone Mountain Center
. . . LIVE from D.C. starting at 7pm eastern
Latest From The Big Picture
57:59
Thom discusses the push to quarantine people who were taking care of Ebola patients with Dr. Lawrence Gostin, Professor of Global Health Law at Georgetown University and the origins of Halloween with Psychologist Dr. Stephen Larsen. Tonight's "Big Picture Rumble" discusses the GOP's continued war on voting, Colorado and Oregon's GMO ballot measures and whether prison is the right punishment for minor marijuana arrests.
Oct. 31, 2014 12:04 pm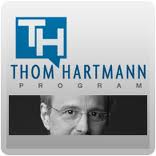 According to UNICEF, even in the world's richest countires, children remain "the most enduring victims" of the recession. In the last six years, 2.6 million more kids have fallen below the poverty line, and more than half of them live right here in the United States.