Today's Radio Show

Monday-Friday
noon-3:00 pm eastern
Tune in on satellite radio at SiriusXM Progress 127
Join Thom in our chatroom during the program!
Missed the live program?
Subscribe to Thom's podcast
Coming up today on The Thom Hartmann Program - Your Home for the Resistance:
Call in Live!
(202) 808-9925
Daily Poll
No! They are Both Sell-Outs
92%
Yes! The Press Still Has Journalists....
8%
Friday's TV Show

Monday-Friday
7:00 pm-10:30 pm eastern
Be sure to join Thom in our chatroom during the program!

Our newest video is here! Watch RESTORATION - plus check out CARBON, LAST HOURS & GREEN WORLD RISING - narrated by Leonardo DiCaprio & Thom Hartmann, directed by Leila Conners
THE BIG PICTURE: GOP Wants To Treat Protesters Just Like Terrorists
BIG PICTURE INTERVIEW: White House Blocks The Press - Richard Eskow, The Zero Hour/Campaign for America's Future
BIG PICTURE PANEL: The Coming Crackdown on Pot
- Janaya Khan, Black Lives Matter-Canada/Gender Justice L.A.
- Dave McCulloch, Capitol Media Partners
BIG PICTURE FACT: Same Sex Marriage Reduces Teen Suicide
...LIVE from Washington, DC starting at 7pm Eastern...
Latest From The Big Picture
11:08
Richard Eskow, The Zero Hour/Campaign for America's Future. Until today, the anti-media rhetoric coming out of the Trump administration has been just that - rhetoric. But this afternoon - it turned into action. Earlier this afternoon - White House Press Secretary Sean Spicer blocked reporters from a number of news outlets from attending a briefing at his office. As the New York Times reports, "Reporters from The Times, BuzzFeed News, CNN, The Los Angeles Times and Politico were not allowed to enter the West Wing office of the press secretary, Sean M. Spicer... Aides to Mr. Spicer only allowed in reporters from a handpicked group of news organizations." It's not that difficult to see what's going on here. This was revenge - pure and simple. All of the news outlets blocked from attending today's briefing have been accused by Donald Trump and his administration of putting out "fake news" - AKA any news that calls into question the administration's extreme right-wing agenda. So - are we watching a crackdown on the press - American-style?
For more information on the stories we've covered visit our websites at thomhartmann.com - freespeech.org - and RT.com. You can also watch tonight's show on Hulu - at Hulu.com/THE BIG PICTURE and over at The Big Picture YouTube page. And - be sure to check us out on Facebook and Twitter!
Feb. 24, 2017 2:44 pm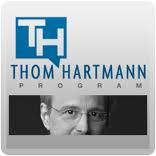 Unless it's replaced with something better - like single-payer - repealing Obamacare will make life miserable for millions of Americans.