Today's Radio Show

Monday-Friday
noon-3:00 pm eastern
Tune in on satellite radio at SiriusXM Progress 127
Join Thom in our chatroom during the program!
Missed the live program?
Subscribe to Thom's podcast
Coming up today on The Thom Hartmann Program:
Call in Live!
(202) 808-9925
Daily Poll
Hillary Clinton
0%
Donald Trump
0%
Chris Wallace
100%
Today's TV Show

Monday-Friday
7:00 pm-8:00 pm eastern
Be sure to join Thom in our chatroom during the program!

Our newest video is here! Watch RESTORATION - plus check out CARBON, LAST HOURS & GREEN WORLD RISING - narrated by Leonardo DiCaprio & Thom Hartmann, directed by Leila Conners
In for Thom tonight, please welcome Sam Sacks, The District Sentinel
BIG PICTURE POLITICS PANEL:
- Brian Darling, Conservative Review
- Valerie Ervin, Working Families Party
- Bryan Pruitt, RedState
BEST OF THE REST: Debates-4, Climate Change Questions-0 - Cassady Sharp-Craighill, Greenpeace USA
DAILY TAKE: Time To Get Rid Of the Second Amendment
...LIVE from Washington, DC starting at 7pm Eastern...
Latest From The Big Picture
57:24
Guest host Sam Sacks is in for Thom Hartmann and discusses election rigging with Democracy for America's Neil Sroka and in tonight's Daily Take Thom details how the Wells Fargo scandal is just the natural outcome of the "shareholder revolution" of the 1980s. Tonight's Rumble talks the final Presidential debate, the close House and Senate races, and Marco Rubio's bizarre comments on the leaked DNC emails.
For more information on the stories we've covered visit our websites at thomhartmann.com - freespeech.org - and RT.com. You can also watch tonight's show on Hulu - at Hulu.com/THE BIG PICTURE and over at The Big Picture YouTube page. And - be sure to check us out on Facebook and Twitter!
Oct. 20, 2016 2:11 pm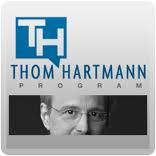 President Obama is absolutely disgusted with Donald Trump's talk about a rigged election.

He made that very clear this week during a press conference at the White House - in which he called Trump's conspiracy theories about voter fraud "unprecedented".