Today's Radio Show

Monday-Friday
noon-3:00 pm eastern
Tune in on satellite radio at SiriusXM Progress 127
Join Thom in our chatroom during the program!

Be sure to check out our videos: CARBON, LAST HOURS & GREEN WORLD RISING - narrated by Leonardo DiCaprio
Hour One: Brunch With Bernie - Senator Bernie Sanders (I-VT) takes your calls
Call in Live!
(202) 536-2370
Daily Poll
YES! No one would work if they can get paid not to.
0% (0 votes)
NO! That's just a Republican talking point used to justify benefit cuts.
100% (18 votes)
Total votes: 18
Thursday's TV Show

Monday-Friday
7:00 pm-8:00 pm eastern

Be sure to check out our new videos: CARBON, LAST HOURS & GREEN WORLD RISING - narrated by Leonardo DiCaprio
NEED TO KNOW: Damn the indictment...full speed ahead for Perry - America's Lawyer Mike Papantonio, Ring of Fire Radio
SCREWED: EXPOSED...GOP reinvents Medicaid expansion - Wendell Potter, Deadly Spin / Center for Public Integrity / Center for Media and Democracy
BEST OF THE REST: Isn't it time for a universal fracking ban? John Rumpler, Environment America
PLUS, Why the GOP won't fix the REAL deficits - David Laska, New York State Republican Party
GEEKY SCIENCE: Depressed? New study reveals why...
DAILY TAKE: Billionaires won't be happy until America becomes Greece...
. . . LIVE from D.C. starting at 7pm eastern
Latest From The Big Picture
57:11
In tonight's show, Thom talks with America's Lawyer and host of "Ring of Fire" radio, Mike Papantonio about Texas Gov. Rick Perry's indictment and Perry as a republican presidential candidate. Thom and Pap discuss Speaker Boehner's rogue invitation to Israeli PM Netanyahu and why it's illegal.
Wendell Potter, author of Deadly Spin, discusses with Thom the implications of Indiana's Medicaid reform and the future of the Affordable Care Act. John Rumpler of Environment America joins Thom on set to discuss Scotland's fracking ban and if the United States should do the same. New York State Republican Party Director of Communications David Laska debates Thom over the real deficit problem in the U.S.
Jan. 29, 2015 12:17 pm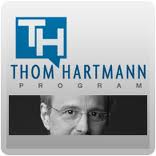 Billionaires don't need a social safety net, so they're using the right-wing spin machine to destroy it.