Today's Headlines From The Hartmann Report
Today's Radio Show

Monday-Friday
noon-3:00 pm eastern
Tune in on satellite radio at SiriusXM Progress 127
Join Thom in our chatroom during the program!
Missed the live program?
Subscribe to Thom's podcast
Coming up today on The Thom Hartmann Program - Your Home for the Resistance:
Call in Live!
(202) 808-9925
Daily Poll
Yes! Healthcare for all is dead.
79%
No! He'll just rename it TrumpCare...
21%
Today's TV Show

Monday-Friday
7:00 pm-10:30 pm eastern
Be sure to join Thom in our chatroom during the program!

Our newest video is here! Watch RESTORATION - plus check out CARBON, LAST HOURS & GREEN WORLD RISING - narrated by Leonardo DiCaprio & Thom Hartmann, directed by Leila Conners
THE BIG PICTURE: Bill Ayers: "Demand the Impossible"
BIG PICTURE INTERVIEW: Manifesto for Movement Makers - Professor William Ayers, Demand the Impossible/University of Illinois at Chicago (retired)
…LIVE from Washington, DC starting at 7pm Eastern…
Latest From The Big Picture
10:14
Big Picture Panel: Tim Cavanaugh, journalist & Scott Greer, The Daily Caller. As Republicans move to dismantle the social safety net - are they creating the left wing version of the tea party?
For more information on the stories we've covered visit our websites at thomhartmann.com - freespeech.org - and RT.com. You can also watch tonight's show on Hulu - at Hulu.com/THE BIG PICTURE and over at The Big Picture YouTube page. And - be sure to check us out on Facebook and Twitter!
Jan. 18, 2017 2:44 pm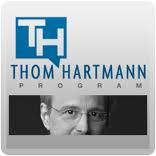 In his eight years in office President Obama has waged a devastating war on whistleblowers, prosecuting more people under the Espionage Act than every single president - combined.


But that war on whistleblowers took a possible step towards armistice today when the President commuted the prison sentence of former US Army private Chelsea Manning.