Today's Radio Show

Monday-Friday
noon-3:00 pm eastern
Tune in on satellite radio at SiriusXM Progress 127
Join Thom in our chatroom during the program!

Be sure to check out our new videos: CARBON & LAST HOURS
- both narrated by Leonardo DiCaprio
Call in Live!
1-866-987-THOM (8466)
1-866-745-CONS (2667)
+ 44 870 974 9686
Daily Poll
YES! Republicans do better when fewer people vote.
57% (13 votes)
NO! People will fight harder to make sure their vote counts.
43% (10 votes)
Total votes: 23
Tuesday's TV Show

Monday-Friday
7:00 pm-8:00 pm eastern

Be sure to check out our new videos: CARBON & LAST HOURS
- both narrated by Leonardo DiCaprio
NEED TO KNOW: Why Do Republicans Stop People From Voting?
BIG PICTURE POLITICS PANEL:
- Patrick Hedger, American Encore
- Nate Sweet, Progressive Commentator
- Hughey Newsome, Project 21 / Move-On-Up

BEST OF THE REST: Secret Tapes Show How Banksters Get Off? Richard Eskow, Campaign for America's Future / The Zero Hour
SCREWED: The Kings Have Spoken On Voting - Shane Farnan, Talk Radio News Service
DAILY TAKE: Why the Web of Life is Dying...
. . . LIVE from D.C. starting at 7pm eastern
Latest From The Big Picture
58:00
Tonight's "Politics Panel" discusses the GOP's continued sabotage of Obamacare, who in the Obama administration underestimated the ISIS threat and whether Obama will put boots on the ground in Syria. Thom discusses the release of audio recordings showing how federal regulators are still looking out for the big banks with Campaign For America's Future Richard Eskow and the Supreme Court's ruling against early voting in Ohio with SCOTUS Reporter Shane Farnan. In tonight's "Daily Take" Thom discusses how our planet is like the human body - everything depends on something else.
Sep. 30, 2014 12:17 pm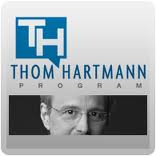 Could you survive with just half of your organs? Think about it. What if you had just half your brain, one kidney, half of your heart, one lung, half a liver and only half of your skin? It would be pretty hard to survive right? Sure, you could survive losing just one kidney or half of your liver, but at some point, losing pieces from all of your organs would be too much and you would die.