Today's Radio Show

Monday-Friday
noon-3:00 pm eastern
Tune in on satellite radio at SiriusXM Progress 127
Join Thom in our chatroom during the program!
Missed the live program?
Subscribe to Thom's podcast
Coming up today on The Thom Hartmann Program:
- Anything Goes Friday! What's On Your Mind?
Call in Live!
(202) 808-9925
Daily Poll
Yes!
7%
No!
27%
Don't know! He flips/flops 2 or 3 times a day.....
67%
Today's TV Show

Monday-Friday
7:00 pm-8:00 pm eastern
Be sure to join Thom in our chatroom during the program!

Our newest video is here! Watch RESTORATION - plus check out CARBON, LAST HOURS & GREEN WORLD RISING - narrated by Leonardo DiCaprio & Thom Hartmann, directed by Leila Conners
BIG PICTURE RUMBLE:
- Kris Ullman, Conservative Commentator/Activist
- Medea Benjamin, Global Exchange/CODEPINK/Kingdom of the Unjust: Behind the U.S.-Saudi Connection
- Scott Greer, The Daily Caller

CONVERSATIONS WITH GREAT MINDS: Sarah Jaffe, NECESSARY TROUBLE: Americans in Revolt/Nation Institute/Belabored Podcast/Dissent Magazine
Latest From The Big Picture
05:29
Multinational corporations like Apple aren't just greedy - they're unpatriotic.
For more information on the stories we've covered visit our websites at thomhartmann.com - freespeech.org - and RT.com. You can also watch tonight's show on Hulu - at Hulu.com/THE BIG PICTURE and over at The Big Picture YouTube page. And - be sure to check us out on Facebook and Twitter!
Aug. 25, 2016 2:28 pm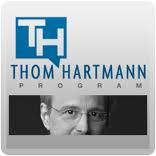 If I declared right now that I won't be paying any taxes until the U.S. government lowers my taxes to a "fair rate", I'd almost certainly be arrested for tax evasion.