Today's Headlines From The Hartmann Report
Tuesday's Radio Show

Monday-Friday
noon-3:00 pm eastern
Tune in on satellite radio at SiriusXM Progress 127
Join Thom in our chatroom during the program!
Missed the live program?
Subscribe to Thom's podcast
Coming up today on The Thom Hartmann Program:
- Election 2016...Democracy is Messy and That's a Good Thing! Stephanie Miller, The Stephanie Miller Show
- What Happened to the Democratic Party? Thomas Frank, Listen Liberal
- How Do We Take the Election Back From the Media? Jeff Cohen, Ithaca College/F.A.I.R./ RootsAction/Cable News Confidential
Call in Live!
(202) 536-2370
Daily Poll
Yes!
100%
No!
0%
There is no such thing as climate change...
0%
Tuesday's TV Show

Monday-Friday
7:00 pm-8:00 pm eastern
Be sure to join Thom in our chatroom during the program!

Our newest video is here! Watch RESTORATION - plus check out CARBON, LAST HOURS & GREEN WORLD RISING - narrated by Leonardo DiCaprio & Thom Hartmann, directed by Leila Conners
BIG PICTURE POLITICS PANEL:
- Hughey Newsome, BOLD.global/Move-On-Up
- Donna Smith, Progressive Democrats of America
- Bryan Pruitt, RedState
CONVERSATIONS WITH GREAT MINDS: Jim Hightower, Swim Against The Current: Even A Dead Fish Can Go With The Flow
...LIVE from Washington, DC starting at 7pm Eastern...
Latest From The Big Picture
12:23
Joel D. Joseph, Made In the USA Foundation/Inequality in America: 10 Causes and 10 Cures joins Thom. The United States of America is the most unequal society in the developed world. Is that just a natural result of capitalism or is it the consequence of specific policies that have been put in place since the Reagan years?
For more information on the stories we've covered visit our websites at thomhartmann.com - freespeech.org - and RT.com. You can also watch tonight's show on Hulu - at Hulu.com/THE BIG PICTURE and over at The Big Picture YouTube page. And - be sure to check us out on Facebook and Twitter!
May. 24, 2016 12:56 pm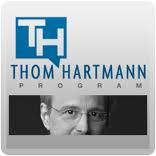 According to new documents from the Center for International Environmental Law, the industry chose to prioritize costs over the planet.

The new documents show oil companies chose to invest in climate denying instead of on technologies to reduce emissions.