Today's Radio Show

Monday-Friday
noon-3:00 pm eastern
Tune in on satellite radio at SiriusXM Progress 127
Join Thom in our chatroom during the program!
Missed the live program?
Subscribe to Thom's podcast
Coming up today on The Thom Hartmann Program:
- How Do We Defeat the New Jim Crow?
- What the Hell Do You Have to Lose if Trump is Elected?
- The Movement Rebirth... (former) OH State Senator Nina Turner, Our Revolution
- As NY Gov Sells Out, it's All Out War on Nuclear Power... Harvey Wasserman, Solartopia
Call in Live!
(202) 808-9925
Tuesday's TV Show

Monday-Friday
7:00 pm-8:00 pm eastern
Be sure to join Thom in our chatroom during the program!

Our newest video is here! Watch RESTORATION - plus check out CARBON, LAST HOURS & GREEN WORLD RISING - narrated by Leonardo DiCaprio & Thom Hartmann, directed by Leila Conners
BIG PICTURE POLITICS PANEL:
- Bryan Pruitt, Red State
- Alex Lawson, Social Security Works
- Hughey Newsome, BOLD.global/Move-On-Up
BEST OF THE REST: Voting While Black- Jennifer Farmer, Advancement Project
PLUS, The Standing Rock Tribe Speaks Out - Tim Mentz, Standing Rock Sioux Tribe
DAILY TAKE: We Are All Pharma-Bro Suckers
...LIVE from Washington, DC starting at 7pm Eastern...
Latest From The Big Picture
12:41
Jennifer Farmer, Advancement Project joins Thom. It's not just voter suppression ID laws that are threatening to block minority voters from casting votes - it's the polling lines themselves. A new report from the Center for Political and Economic Studies used data from the Cooperative Congressional Election Study to figure out which races of people have the longest average wait-times at polls. The report showed unsurprisingly that black voters aren't just being targeted with stringent voter ID laws that focus exclusively on the type of IDs that black Americans are less likely to have - they're waiting in line nearly twice as long as white voters at the polling places. But what factors are leading to such a disparity in terms of wait times at polling places?
For more information on the stories we've covered visit our websites at thomhartmann.com - freespeech.org - and RT.com. You can also watch tonight's show on Hulu - at Hulu.com/THE BIG PICTURE and over at The Big Picture YouTube page. And - be sure to check us out on Facebook and Twitter!
Aug. 23, 2016 2:42 pm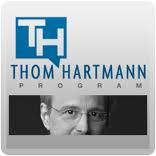 "Pharma Bro" Martin Shkreli became one of the most notorious people in America for hiking the price of a rarely used life-saving drug by 4,000 percent in September of 2015.

And nearly a year later, dozens of reports are now coming out about how Mylan Pharmaceuticals hiked the price of the very common life-saving EpiPen by over 450% since Mylan bought EpiPen in 2007.