Today's Radio Show

Monday-Friday
noon-3:00 pm eastern
Tune in on satellite radio at SiriusXM Progress 127
Join Thom in our chatroom during the program!
Missed the live program?
Subscribe to Thom's podcast
Coming up today on The Thom Hartmann Program - Your Home for the Resistance:
Call in Live!
(202) 808-9925
Wednesday's TV Show

Monday-Friday
7:00 pm-10:30 pm eastern
Be sure to join Thom in our chatroom during the program!

Our newest video is here! Watch RESTORATION - plus check out CARBON, LAST HOURS & GREEN WORLD RISING - narrated by Leonardo DiCaprio & Thom Hartmann, directed by Leila Conners
THE BIG PICTURE: Is the GOP Trying to Make Elizabeth Warren the New Boogeyman
BIG PICTURE PANEL: Testy Town Halls Scare GOP Snowflakes
- Charles Sauer, The Market Institute
- Travis Korson, Madison Strategies
BIG PICTURE INTERVIEW: Who's In Charge Of The Death Panels? Larry Cohen, Our Revolution/Democracy Initiative
BIG PICTURE FACT: Fracking Spills - More Than You think...
...LIVE from Washington, DC starting at 7pm Eastern...
Latest From The Big Picture
27:36
On tonight's Big Picture, Thom talks to Charles Sauer of the Market Institute and Travis Korson of Madison Strategies about GOP Congressmen hiding from town halls as protesters come out, and a new study showing Medicare for all is the only way Trump can keep his campaign promises. Then, Thom discusses the GOP targeting Elizabeth Warren and the upcoming DNC election with Larry Cohen of Our Revolution.
For more information on the stories we've covered visit our websites at thomhartmann.com - freespeech.org - and RT.com. You can also watch tonight's show on Hulu - at Hulu.com/THE BIG PICTURE and over at The Big Picture YouTube page. And - be sure to check us out on Facebook and Twitter!
Feb. 22, 2017 2:52 pm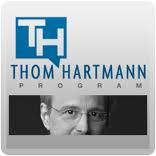 It turns out that Donald Trump was completely serious when he said he wanted to deport millions of people who've done nothing wrong except live and work in the United States without the right paperwork.