Thursday's Radio Show

Monday-Friday
noon-3:00 pm eastern
Tune in on satellite radio at SiriusXM Progress 127
Join Thom in our chatroom during the program!
Missed the live program?
Subscribe to Thom's podcast
Coming up today on The Thom Hartmann Program - Your Home for the Resistance:
Call in Live!
(202) 808-9925
Thursday's TV Show

Monday-Friday
7:00 pm-10:30 pm eastern
Be sure to join Thom in our chatroom during the program!

Our newest video is here! Watch RESTORATION - plus check out CARBON, LAST HOURS & GREEN WORLD RISING - narrated by Leonardo DiCaprio & Thom Hartmann, directed by Leila Conners
THE BIG PICTURE: GOP is Wrong…Without Your Health, You Have No Freedom
BIG PICTURE PANEL: GOP Confession - When More People Vote, Republicans Lose
- Scottie Nell Hughes, Right Alerts/Roar: The New Conservative Woman Speaks Out
- Linda Benesch, Social Security Works
BIG PICTURE INTERVIEW: Here's A Bill To Abolish the EPA Already - Farron Cousins, Ring of Fire Radio/DeSmogBlog/Trial Lawyer Magazine
BIG PICTURE FACT: Privatization & Water Don't Mix
...LIVE from Washington, DC starting at 7pm Eastern...
Latest From The Big Picture
11:38
Farron Cousins, Ring of Fire Radio/DeSmog Blog/Trial Lawyer Magazine. When Scott Pruitt gave his first official speech as EPA administrator earlier this week - he didn't even mention global warming once. Apparently - the fate of the planet isn't something the nation's top environmental regulator thinks he should be worrying about. Instead, he's spent a good portion of his career SUING the agency he's now leading - and to put it bluntly - is a basically glorified lackey for the fossil fuel industry. That has now been made abundantly clear thanks to the Center for Media Democracy - which this week secured the release of around 7,500 previously withheld emails from Scott Pruitt's time as Oklahoma Attorney General.
For more information on the stories we've covered visit our websites at thomhartmann.com - freespeech.org - and RT.com. You can also watch tonight's show on Hulu - at Hulu.com/THE BIG PICTURE and over at The Big Picture YouTube page. And - be sure to check us out on Facebook and Twitter!
Feb. 23, 2017 2:40 pm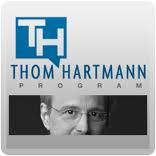 There's something about taxes that elected Republicans know, but most Americans are completely unaware of. It's the reason we keep falling for the perennial GOP tax scam, and Paul Ryan, Mitch McConnell, and their buddies in the White House are getting ready to run this ruse on American working people all over again.