Monday's Radio Show

Monday-Friday
noon-3:00 pm eastern
Tune in on satellite radio at SiriusXM Progress 127
Join Thom in our chatroom during the program!
Missed the live program?
Subscribe to Thom's podcast
Coming up today on The Thom Hartmann Program:
- Democrats Are Stuck in Left vs. Right - When This is Really Insider vs. Outsider Election...
Plus, LIVE from DNC Radio Row, Congressman Adam Schiff (D-CA, 28th District) and CA Democratic Super Delegate Bob Mulholland...
Call in Live!
(202) 808-9925
Monday's TV Show

Monday-Friday
7:00 pm-8:00 pm eastern
Be sure to join Thom in our chatroom during the program!

Our newest video is here! Watch RESTORATION - plus check out CARBON, LAST HOURS & GREEN WORLD RISING - narrated by Leonardo DiCaprio & Thom Hartmann, directed by Leila Conners
BIG PICTURE PROGRESSIVE ROUNDTABLE:
- Jasmine Jefferson, Social Security Works
- Danielle Blevins, Freelance Reporter
SPECIAL PANEL GUEST: Democrats Need to Stop Insisting All Is Well! R.T. Rybak, (D-MN) Mayor of Minneapolis (2002-2014)/DNC/Minneapolis Foundation
SPECIAL PANEL GUEST: Why Tim Kaine? Kathleen Kennedy Townsend, Attorney/Former Lt. Gov. of Maryland
PLUS, The Koch Bros Fingerprints Were All Over the GOP Convention - Lisa Graves, Center for Media and Democracy (CMD)
Latest From The Big Picture
11:37
Dr. Mark Weisbrot, Center for Economic and Policy Research (C.E.P.R.)/Just Foreign Policy/FAILED: What the "Experts" Got Wrong about the Global Economy, joins Thom. While Trump has run a campaign based on the promise that he'll put Americans back to work by ending or renegotiating all of our disastrous trade deals - Mike Pence has made a career in Washington supporting every single one of those trade deals! Seriously - he's shown so much support for our so-called free trade deals that the Chamber of Commerce recently wrote a piece called "Mike Pence Has a Great Track Record on Trade" celebrating his support of every single trade deal that Donald Trump opposes. Back in 2001 he pushed to give "trade promotion authority" - also known as fast track authority - to George W. Bush. So - will this ticket divided be able to stand?
For more information on the stories we've covered visit our websites at thomhartmann.com - freespeech.org - and RT.com. You can also watch tonight's show on Hulu - at Hulu.com/THE BIG PICTURE and over at The Big Picture YouTube page. And - be sure to check us out on Facebook and Twitter!
Jul. 25, 2016 2:16 pm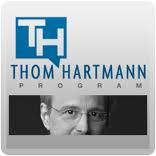 According to a new study published in the Journal of Molecular and Cellular Endocrinology, Benzyl butyl phthalate (BBP), a chemical commonly used in the food manufacturing process, can increase fat storage in the body even before birth.