Tuesday's Radio Show

Monday-Friday
noon-3:00 pm eastern
Tune in on SiriusXM's The Progress, Channel 127
Catch The Thom Hartmann Program LIVE M-F 12 noon to 3pm ET / Join Thom in our chatroom during the program!

Hour One: Ferguson...instant race riots? Michael Dozier, PhD, TeaParty.org

Hour Two:



Talk Radio News
- Victoria Jones

Hour Three: Humanists undermining the constitution...what?? Dr. Alex McFarland
Call in Live!
1-866-987-THOM (8466)
1-866-745-CONS (2667)
+ 44 870 974 9686
Daily Poll
YES! Police need to protect & serve, not frighten & kill.
47% (7 votes)
YES! Police need to be positive members in our communities.
53% (8 votes)
Total votes: 15
Tuesday's TV Show

Monday-Friday
7:00 pm-8:00 pm eastern
Latest From The Big Picture
58:00
Tonight's "Politics Panel" talks the latest from Ferguson, MO, how people are smearing Michael Brown and whether Rick Perry's mug shot will end his presidential ambitions. Thom discusses how to get out of Iraq with Author & Activist Tom Hayden and how Honduras children have been killed after being deported from the U.S. with Mary Small of the Jesuit Refugee Service USA. In tonight's "Daily Take" Thom discusses how we need to stop the culture of poverty and violence in America to protect future generations.
Aug. 19, 2014 1:21 pm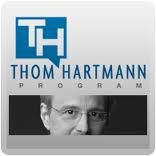 A few weeks ago, Congressman Paul Ryan released his latest proposal for tackling America's poverty epidemic. Unfortunately, the plan does very little to combat poverty in our country, and instead, continues the devastating austerity policies that Ryan himself helped to create. Thanks to those policies, entire communities across America are underwater, and struggling to survive in tough economic times.