Today's Headlines From The Hartmann Report
Today's Radio Show

Monday-Friday
noon-3:00 pm eastern
Tune in on satellite radio at SiriusXM Progress 127
Join Thom in our chatroom during the program!
Missed the live program?
Subscribe to Thom's podcast
Coming up today on The Thom Hartmann Program:
- Anything Goes Friday
- Democratic Convention Wrap Up...Hillary Asked Progressives to Keep Pushing. Will You Get/Stay Engaged?
...LIVE from Washington, DC starting at 12pm Eastern...
Call in Live!
(202) 808-9925
Today's TV Show

Monday-Friday
7:00 pm-8:00 pm eastern
Be sure to join Thom in our chatroom during the program!

Our newest video is here! Watch RESTORATION - plus check out CARBON, LAST HOURS & GREEN WORLD RISING - narrated by Leonardo DiCaprio & Thom Hartmann, directed by Leila Conners
BIG PICTURE RUMBLE:
- Neil McCabe, Breitbart
- Alex Lawson, Social Security Works
- Bryan Pruitt, RedState
PROGRESSIVE ROUNDTABLE:
- Jan Frel, AlterNet
- Zaid Jilani, The Intercept
...LIVE from Washington, DC starting at 7pm Eastern...
Latest From The Big Picture
08:12
Congressman Mark Pocan (D-WI, 2nd District) joins Thom. Mike Pence portrays himself as an average midwestern guy - Pence actually holds some very dangerous views - views that put him far outside the mainstream of American society.
For more information on the stories we've covered visit our websites at thomhartmann.com - freespeech.org - and RT.com. You can also watch tonight's show on Hulu - at Hulu.com/THE BIG PICTURE and over at The Big Picture YouTube page. And - be sure to check us out on Facebook and Twitter!
Jul. 29, 2016 2:27 pm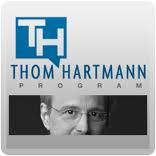 We start at Cape Grim in Australia - where an atmospheric measuring station is picking up atmospheric CO2 levels that are on the verge of breaking 400 parts per million for the first time in human history.