Friday's Radio Show

Monday-Friday
noon-3:00 pm eastern
Tune in on satellite radio at SiriusXM Progress 127
Join Thom in our chatroom during the program!
Missed the live program?
Subscribe to Thom's podcast
Canada Day 2016
Coming up today on The Thom Hartmann Program:
- Anything Goes Friday
- The Media Malpractice On Climate Change - Dr. Michael Mann, Earth System Science Center-Penn State University/Dire Predictions: Understanding Climate Change (2nd edition)
- MSNBC...Bragging About Moving to the Right - Jeff Cohen, Ithaca College Park Center for Independent Media/Cable News Confidential: My Misadventures in Corporate Media
Call in Live!
(202) 808-9925
Thursday's TV Show

Monday-Friday
7:00 pm-8:00 pm eastern
Be sure to join Thom in our chatroom during the program!

Our newest video is here! Watch RESTORATION - plus check out CARBON, LAST HOURS & GREEN WORLD RISING - narrated by Leonardo DiCaprio & Thom Hartmann, directed by Leila Conner
NEED TO KNOW: The BREXIT Establishment Freakout - Professor Robin Hahnel, American University (Emeritus)/The Political Economy of Participatory Economics
SCREWED: The FBI Spy Hawks- Sam Sacks, The District Sentinel
BEST OF THE REST: Trump's Racist Supporters - Benjamin Dixon, The Benjamin Dixon Show
GREEN REPORT: Offshore Corporate Frack Attack Approved - Farron Cousins, Ring of Fire Radio/DeSmogBlog/Trial Lawyer Magazine
DAILY TAKE: July 4th 1776...the First Brexit
...LIVE from Washington, DC starting at 7pm Eastern...
Jun. 30, 2016 2:25 pm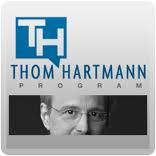 The markets have recovered from the Brexit panic, but people are still reeling in the aftermath of the UKs vote to leave the European Union, at least in part because it seems like such an unprecedented action.

But it really isn't so unprecedented.