Today's Headlines From The Hartmann Report
Thursday's Radio Show

Monday-Friday
noon-3:00 pm eastern
Tune in on satellite radio at SiriusXM Progress 127
Join Thom in our chatroom during the program!
Missed the live program?
Subscribe to Thom's podcast
Coming Up Today on The Thom Hartmann Program - Your Home for The Resistance:
Call in Live!
(202) 808-9925
Daily Poll
Yes! News is Dead....
100%
No! There is no line here.....
0%
Friday's TV Show

Monday-Friday
7:00 pm-10:30 pm eastern
Be sure to join Thom in our chatroom during the program!

Our newest video is here! Watch RESTORATION - plus check out CARBON, LAST HOURS & GREEN WORLD RISING - narrated by Leonardo DiCaprio & Thom Hartmann, directed by Leila Conners
BIG PICTURE INTERVIEW: The No BS Guide To The Upcoming Jill Stein Recount - Greg Palast, The Best Democracy Money Can Buy
BIG PICTURE RUMBLE: Is Trump President or CEO Of America?
- Joel Silberman, Media Strategist/Trainer/Author
- Bryan Pruitt, RedState
BIG PICTURE FACT: Here's How Many Coastal Water Dead Zones There Are Worldwide...
...LIVE from Washington, DC starting at 7pm Eastern...
Latest From The Big Picture
12:02
Big Picture Interview: Greg Palast, The Best Democracy Money Can Buy. It's almost like they have something to hide. With one Jill Stein-led recount effort already underway in Wisconsin and additional recounts pending in Michigan and Pennsylvania, supporters of Donald Trump are now taking legal action to stop what they say is a basless attempt to smear their candidate. In Pennsylvania, Trump himself has joined up with the local Republican Party to block Jill Stein's request for a recount. In Wisconsin, Trump Super PACS are doing the dirty work and have asked a federal judge to stop what they say is a violation of due process rights. Across the border in Michigan, meanwhile, Republican Attorney General Bill Scuette has asked the State Supreme Court to cancel an effort he and his office are calling a "frivolous request for a recount by an aggrieved party to silence all Michigan votes for president." So - IS Jill Stein's push for a recount just a useless exercise in self-promotion? Or is there actually a chance it could expose something big?
For more information on the stories we've covered visit our websites at thomhartmann.com - freespeech.org - and RT.com. You can also watch tonight's show on Hulu - at Hulu.com/THE BIG PICTURE and over at The Big Picture YouTube page. And - be sure to check us out on Facebook and Twitter!
Dec. 2, 2016 2:17 pm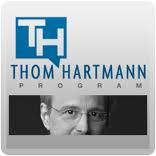 Donald Trump took a victory lap in Indianapolis yesterday afternoon, where he and Vice President elect Mike Pence officially announced a deal to keep 800 Carrier jobs in Indiana.

That's 200 fewer jobs than the 1,000 jobs that Trump initially said the deal would save, but that's kind of besides the point.