Thursday's Radio Show

Monday-Friday
noon-3:00 pm eastern
Tune in on satellite radio at SiriusXM Progress 127
Join Thom in our chatroom during the program!
Missed the live program?
Subscribe to Thom's podcast
Cinco de Mayo
Coming up today on The Thom Hartmann Program:
- Why Do Voters Hate the GOP More Than They Despise Trump?
- Best of the Rest of the News
- How Can We Stop the Arctic Death Spiral? Farron Cousins, Ring Of Fire Radio/Trial Lawyer Magazine
Call in Live!
(202) 536-2370
Daily Poll
YES! There shouldn't be a profit motive for helping sick people.
94%
NO! We should simply allow everyone to enroll in Medicare.
6%
Thursday's TV Show

Monday-Friday
7:00 pm-8:00 pm eastern
Be sure to join Thom in our chatroom during the program!

Our newest video is here! Watch RESTORATION - plus check out CARBON, LAST HOURS & GREEN WORLD RISING - narrated by Leonardo DiCaprio & Thom Hartmann, directed by Leila Conners
NEED TO KNOW: Banksters Claim Right to Taxpayer Money - Richard Eskow, The Zero Hour (radio)/Bernie Sanders Campaign
SCREWED: The "We The People Amendment" Explained
- David Cobb, Move To Amend
- George Friday, Move to Amend/Bill of Rights Defense Committee
BEST OF THE REST: Civil Disobedience Is Legal Here - Chad Nicholson, Community Environmental Legal Defense Fund
PLUS, Ryan Stops Gitmo From Closing - Sam Sacks, The District Sentinel
AND, Unveiling The New Single Payer Plan - Dr. Adam Gaffney, M.D., Physicians For A National Health Plan
DAILY TAKE: Fossil Fuel Billionaires Kill Children
...LIVE from Washington, DC starting at 7pm ET...
Latest From The Big Picture
58:00
Thom discusses why The Fed continues to give subsidies to the big banks with radio host and activist Richard Eskow, what the 28 classified pages from the 9/11 report will likely reveal with The District Sentinel's Sam Sacks, how one small town in Pennsylvania is taking on the fracking industry, and in tonight's Daily Take Thom pleas to all human beings to take drastic and immediate action on climate change.
For more information on the stories we've covered visit our websites at thomhartmann.com - freespeech.org - and RT.com. You can also watch tonight's show on Hulu - at Hulu.com/THE BIG PICTURE and over at The Big Picture YouTube page. And - be sure to check us out on Facebook and Twitter!
May. 6, 2016 5:36 am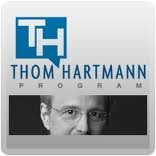 In 2014, the state Bank of North Dakota was more profitable than Goldman Sachs and J.P. Morgan Chase. And, that's why every state should own their own depository institution.

Most people attributed the Bank of North Dakota's success with the oil boom in the region, but their latest report shows that last year was their most profitable year ever, despite the fact that their state's oil boom has become an oil bust.