Today's Radio Show

Monday-Friday
noon-3:00 pm eastern
Tune in on satellite radio at SiriusXM Progress 127
Join Thom in our chatroom during the program!
Missed the live program?
Subscribe to Thom's podcast
Coming up today on The Thom Hartmann Program - Your Home For the Resistance:
Call in Live!
(202) 808-9925
Daily Poll
Welfare for Big Business...
95%
A Great Stimulus
5%
Today's TV Show

Monday-Friday
7:00 pm-10:30 pm eastern
Be sure to join Thom in our chatroom during the program!

Our newest video is here! Watch RESTORATION - plus check out CARBON, LAST HOURS & GREEN WORLD RISING - narrated by Leonardo DiCaprio & Thom Hartmann, directed by Leila Conners
THE BIG PICTURE: Why Trump's Electronics Ban is a Masterpiece of Fearmongering...
BIG PICTURE INTERVIEW: Trump Remaking the Judiciary in a Disgusting Way - Mike Papantonio, America's Lawyer (RT America)/Ring of Fire Radio/Law and Disorder
BIG PICTURE PANEL: The Koch Bros vs. Trump - Who Will Win On Healthcare?
- Horace Cooper, National Center for Public Policy Research
- Matt Demar, Conservative Commentator/Real Estate Developer & Musician
BIG PICTURE FACT: The Amount Of Waste Dumped Into Our Oceans..and Why
…LIVE from Washington, DC starting at 7pm Eastern…
Latest From The Big Picture
00:10
Big Picture Fact Of The Day...
For more information on the stories we've covered visit our websites at thomhartmann.com - freespeech.org - and RT.com. You can also watch tonight's show on Hulu - at Hulu.com/THE BIG PICTURE and over at The Big Picture YouTube page. And - be sure to check us out on Facebook and Twitter!
Mar. 22, 2017 2:40 pm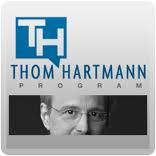 The conventional wisdom is that outsourcing to places like China is the biggest threat to American jobs.

And while that's definitely true, there's a new threat on the horizon.

As it expands out from its online bookstore roots, Amazon has approached virtual monopoly status - and regular retailers are paying the price.