Today's Headlines From The Hartmann Report
Today's Radio Show

Monday-Friday
noon-3:00 pm eastern
Tune in on satellite radio at SiriusXM Progress 127
Join Thom in our chatroom during the program!
Missed the live program?
Subscribe to Thom's podcast
Coming up today on The Thom Hartmann Program - Your Home for the Resistance:
Call in Live!
(202) 808-9925
Daily Poll
The Media Gave Him 3Billion in ads for free, cross check & voter suppression...
90%
The DNC got hacked and emails dissing Bernie were revealed...
3%
Americans overwhelmingly support Trump.....
8%
Friday's TV Show

Monday-Friday
7:00 pm-10:30 pm eastern
Be sure to join Thom in our chatroom during the program!

Our newest video is here! Watch RESTORATION - plus check out CARBON, LAST HOURS & GREEN WORLD RISING - narrated by Leonardo DiCaprio & Thom Hartmann, directed by Leila Conners
THE BIG PICTURE: Is it Time America Had a Maximum Wage Law?
BIG PICTURE PANEL: Is the GOP Going to Gut Warren's Consumer Watchdog?
- Kai Newkirk, Democracy Spring/99Rise
- Alex Pfeiffer, The Daily Caller
BIG PICTURE INTERVIEW: The ACA Repeal Gives YUGE Tax Cuts to Super Rich - Dr. Mark Weisbrot, Center for Economic and Policy Research (C.E.P.R.)/Just Foreign Policy/FAILED: What the "Experts" Got Wrong about the Global Economy
BIG PICTURE FACT: Will We See The End Of Seafood In Our Lifetime?
...LIVE from Washington, DC starting at 7pm Eastern...
Latest From The Big Picture
27:40
Thom talks with The Daily Caller's Alex Pfeiffer and 99Rise's Kai Newkirk about the House of Representatives move to repeal Obamacare, Cory Booker's vote against cheaper prescription drugs for Americans, and Jeremy Corbyn's push for a 'maximum wage' in the U.K. After, Mark Weisbrot of the Center for Economic and Policy Research joins Thom to discuss what's in store for President Obama's signature healthcare initiative.
For more information on the stories we've covered visit our websites at thomhartmann.com - freespeech.org - and RT.com. You can also watch tonight's show on Hulu - at Hulu.com/THE BIG PICTURE and over at The Big Picture YouTube page. And - be sure to check us out on Facebook and Twitter!
Jan. 13, 2017 2:31 pm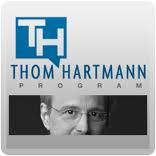 When asked during his confirmation hearing on Wednesday about his position on the Trans-Pacific Partnership, former Exxon Mobil CEO Rex Tillerson - Donald Trump's pick for Secretary of State - said that while he did not personally oppose the agreement, it didn't further America's interests in its current form.