Today's Radio Show

Monday-Friday
noon-3:00 pm eastern
Tune in on satellite radio at SiriusXM Progress 127
Be sure to join Thom in our chatroom during the program!

Be sure to check out our new videos: CARBON, LAST HOURS & GREEN WORLD RISING - narrated by Leonardo DiCaprio
Call in Live!
(202) 536-2370
Daily Poll
YES! Anti-gay groups just want a legal way to refuse service to gays.
100% (13 votes)
NO! People shouldn't have to ignore their beliefs to run a business.
0% (0 votes)
Total votes: 13
Monday's TV Show

Monday-Friday
7:00 pm-8:00 pm eastern

Be sure to check out our new videos: CARBON, LAST HOURS & GREEN WORLD RISING - narrated by Leonardo DiCaprio
NEED TO KNOW: The BIG LIE about religious 'freedom' laws - Karl Frisch, Democratic Strategist
SCREWED: Will Obama Expose the dark $ donors? Lisa Gilbert, Public Citizen's Money In Politics Campaign & Congress Watch division
BEST OF THE REST: BUSTED! What corporations are hiding about TPP - TJ Helmstetter, Progressive Change Campaign Committee (PCCC)
PLUS, Why a military draft could end war... David Selig, Selig Associates
DAILY TAKE: Why the House of Representatives Doesn't Represent Americans
. . . LIVE from D.C. starting at 7pm eastern
Latest From The Big Picture
57:16
Thom discusses Indiana's new pro-discrimination law with democratic strategist Karl Frisch, whether Obama can do anything to make corporate donations more transparent with Public Citizen's Lisa Gilbert, and Rep. Charlie Rangel's call to reinstate the draft with conservative commentator David Selig. In tonight's "Daily Take" Thom discusses how our representatives no longer represent us.
For more information on the stories we've covered visit our websites at thomhartmann.com - freespeech.org - and RT.com. You can also watch tonight's show on Hulu - at Hulu.com/THE BIG PICTURE and over at The Big Picture YouTube page. And - be sure to check us out on Facebook and Twitter!
Mar. 30, 2015 12:20 pm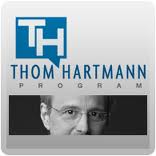 One of the really weird ironies of politics these days is the huge divergence between what the American people actually want and what the radical right-wingers in Washington actually do. You won't hear this on Fox So-Called News, but right now the American people are as progressive as they ever have been.

Don't believe me? Just check the polls.