Today's Headlines From The Hartmann Report
Today's Radio Show

Monday-Friday
noon-3:00 pm eastern
Tune in on satellite radio at SiriusXM Progress 127
Join Thom in our chatroom during the program!
Missed the live program?
Subscribe to Thom's podcast
Coming up today on The Thom Hartmann Program:
- Benghazi...There Ain't No "THERE" There! Ari Rabin-Havt, The Benghazi Hoax/The Morning Aganda/SiriusXM Progress (ch.127)
- Everything You Need To Know About Neoliberalism and Why It Sucks...
- Trading Up OR Selling Out? TTP, TTIP & TISA - Celeste Drake, AFL-CIO
- Public Parking...the Next For Profit Privatization Nightmare...
...LIVE from Washington, DC starting at 12pm Eastern...
Call in Live!
(202) 808-9925
Monday's TV Show

Monday-Friday
7:00 pm-8:00 pm eastern
Be sure to join Thom in our chatroom during the program!

Our newest video is here! Watch RESTORATION - plus check out CARBON, LAST HOURS & GREEN WORLD RISING - narrated by Leonardo DiCaprio & Thom Hartmann, directed by Leila Conners
NEED TO KNOW: Brexit...What The "Experts" Got Wrong
- John Hilary, War On Want/The Poverty of Capitalism: Economic Meltdown and the Struggle for what Comes Next
- Dr. Mark Weisbrot, Center for Economic and Policy Research (C.E.P.R.)/Just Foreign Policy/FAILED: What the "Experts" Got Wrong about the Global Economy
SCREWED: Party Platform Rumble...Will Progressives Be Heard? Nina Turner, Bernie Sanders Campaign
CONVERSATIONS WITH GREAT MINDS: David Daley, RATF**KED: The True Story Behind the Secret Plan to Steal America's Democracy/Salon
...LIVE from Washington, DC starting at 7pm Eastern...
Latest From The Big Picture
10:45
Nina Turner, Bernie Sanders Campaign joins Thom. The draft of the Democratic Platform is more progressive than ever - but it still falls short in a number of ways - according to Vermont Senator Bernie Sanders.
For more information on the stories we've covered visit our websites at thomhartmann.com - freespeech.org - and RT.com. You can also watch tonight's show on Hulu - at Hulu.com/THE BIG PICTURE and over at The Big Picture YouTube page. And - be sure to check us out on Facebook and Twitter!
Jun. 27, 2016 2:52 pm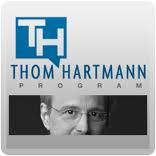 Here is the Fukushima wake up call - will it go unheard?