Thursday's Radio Show

Monday-Friday
noon-3:00 pm eastern
Tune in on satellite radio at SiriusXM Progress 127
Join Thom in our chatroom during the program!
Missed the live program?
Subscribe to Thom's podcast
Coming up today on The Thom Hartmann Program:
- America First: Trump & the New American Fascist Movement...
- Generation Left...Shaping America's Future - Farron Cousins, Ring of Fire Radio/Trial Lawyer Magazine
Call in Live!
(202) 536-2370
Daily Poll
YES! That's why they're fighting to expand SS, not cut it.
64%
NO! The GOP have made them believe it's a failed program.
36%
Thursday's TV Show

Monday-Friday
7:00 pm-8:00 pm eastern
Be sure to join Thom in our chatroom during the program!

Our newest video is here! Watch RESTORATION - plus check out CARBON, LAST HOURS & GREEN WORLD RISING - narrated by Leonardo DiCaprio & Thom Hartmann, directed by Leila Conners
NEED TO KNOW: How Mega Mergers Make Corporations Too Big To Fail - Richard Eskow, Bernie Sanders Campaign/The Zero Hour
SCREWED: GOP...Now Protecting Union Busters? Sam Sacks, The District Sentinel
PLUS, What Millennials Need to Know About Social Security - Jasmine Jefferson, Social Security Works
CONVERSATIONS WITH GREAT MINDS: Ralph Nader, Breaking Through Power/Unsafe At Any Speed
...LIVE from Washington, DC starting at 7pm Eastern...
Latest From The Big Picture
58:01
Thom discusses the approved and proposed mergers in the cable and health insurance industries with radio host and activist Richard Eskow, GOP union busting with The District Sentinel's Sam Sacks, and what millennials need to know about social security with Social Security Works' Jasmine Jefferson. And in tonight's Conversations with Great Minds Thom discusses the presidential race and how to break through power with consumer advocate, activist, and author Ralph Nader.
For more information on the stories we've covered visit our websites at thomhartmann.com - freespeech.org - and RT.com. You can also watch tonight's show on Hulu - at Hulu.com/THE BIG PICTURE and over at The Big Picture YouTube page. And - be sure to check us out on Facebook and Twitter!
Apr. 29, 2016 6:13 am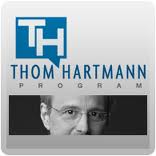 While much of the mainstream media was focused on 2016 election cycle, Secretary of State John Kerry was making history with his granddaughter at the United Nations. Last week, Secretary Kerry joined a gathering of the majority of the world's nations and signed on to the historic Paris Climate Accord.