Friday's Radio Show

Monday-Friday
noon-3:00 pm eastern
Tune in on satellite radio at SiriusXM Progress 127
Join Thom in our chatroom during the program!

Be sure to check out our videos: CARBON, LAST HOURS & GREEN WORLD RISING - narrated by Leonardo DiCaprio
Hour One: Brunch With Bernie - Senator Bernie Sanders (I-VT) takes your calls
Call in Live!
(202) 536-2370
Daily Poll
YES! Even Republican women think it's too extreme.
75% (12 votes)
NO! It's only a tactic to appease the far-Right Republican voters.
25% (4 votes)
Total votes: 16
Friday's TV Show

Monday-Friday
7:00 pm-8:00 pm eastern

Be sure to check out our new videos: CARBON, LAST HOURS & GREEN WORLD RISING - narrated by Leonardo DiCaprio
BIG PICTURE RUMBLE
- Jean Card, Jean Card Ink / U.S. News & World Report
- Christy Setzer, New Heights Communications
- Shelby Emmett, Attorney / Project 21
CONVERSATIONS WITH GREAT MINDS (Pt 2.) - Norman Lear, Prolific TV & Film Writer & Producer / Even This I Get to Experience
. . . LIVE from D.C. starting at 7pm eastern
Latest From The Big Picture
57:20
In tonight's show, Thom talks with America's Lawyer and Host of "Ring of Fire" radio, Mike Papantonio about the Alan Dershowitz rape accusations and the unfair justice system for the rich and the poor.
Thom debates Kevin Martin of Project 21 about America's infrastructure crisis and Republicans refusal to rebuild it.
Sam Bennett, author of Ascend, talks about the Republican's attack on abortion. Author Kathryn Miles tells us why we should be worried about the future of American weather satellites and what needs to be done.
Jan. 23, 2015 7:25 am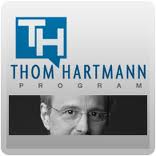 This month marks five years since the United States Supreme Court made their infamous ruling in the case of Citizens United v. FEC. That ruling turned a century of legal precedent on its head with the declaration that corporations have a First Amendment right to spend money in elections. And, that ruling opened the floodgates to massive spending levels in our political process.