Today's Radio Show

Monday-Friday
noon-3:00 pm eastern
Tune in on satellite radio at SiriusXM Progress 127
Join Thom in our chatroom during the program!
Missed the live program?
Subscribe to Thom's podcast
Coming up today on The Thom Hartmann Program:
- Have American Workers Lost Their Tribe?
- How the Berniecrats Can Take Back Our Congress! Zephyr Teachout, Candidate for Congress (D-NY, 19th District)
Call in Live!
(202) 808-9925
Today's TV Show

Monday-Friday
7:00 pm-8:00 pm eastern
Be sure to join Thom in our chatroom during the program!

Our newest video is here! Watch RESTORATION - plus check out CARBON, LAST HOURS & GREEN WORLD RISING - narrated by Leonardo DiCaprio & Thom Hartmann, directed by Leila Conners
BIG PICTURE RUMBLE:
- Crystal Wright, Con Job: How the Democrats Gave Us Crime, Sanctuary Cities, Abortion Profiteering and Racial Division/Conservative Black Chick
- Sarah Badawi, Progressive Change Campaign Committee (PCCC)
- Charles Sauer, The Market Institute
BEST OF THE REST: What To Do In A World Crisis - Dr./Ambassador Alison Thompson, Third Wave Volunteers
GREEN REPORT: Here's How We Get To 100% Renewables - Richard Heinberg, Post Carbon Institute/Our Renewable Future: Laying the Path for One Hundred Percent Clean Energy
PLUS, We Need to Stop the GMO Labeling "Compromise" - Patty Lovera, Food & Water Watch
Latest From The Big Picture
00:50
For decades - scientists and supernatural theorists alike have wondered why ships seem to disappear forever in the massive area between Florida - Bermuda - and Puerto Rico. Everything from UFOs to interdimensional portals - has been suggested as a reason why - but now scientists think they have answer. Researchers off the coast of Norway in an area known as the Barents Sea think they now have the answer…..
For more information on the stories we've covered visit our websites at thomhartmann.com - freespeech.org - and RT.com. You can also watch tonight's show on Hulu - at Hulu.com/THE BIG PICTURE and over at The Big Picture YouTube page. And - be sure to check us out on Facebook and Twitter!
Jun. 29, 2016 2:38 pm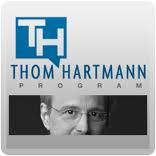 David Appell, Yale Climate Connections, is asking the question - Will the Arctic Be Ice-Free Within the Next Two Decades?

When white sea ice melts, the ocean loses its reflective surface and the darker water absorbs more heat from the sun.