Today's Radio Show

Monday-Friday
noon-3:00 pm eastern
Tune in on SiriusXM's The Progress, Channel 127
Catch The Thom Hartmann Program LIVE M-F 12 noon to 3pm ET / Join Thom in our chatroom during the program!
Be sure to check out our new video: CARBON - narrated by Leonardo DiCaprio
Anything Goes Friday

Hour One; Time for Bill O'Reilly to Get Real on White Priviledge

Hour Two: The Huey Newton Gun Club



Talk Radio News
- Victoria Jones

Hour Three
Call in Live!
1-866-987-THOM (8466)
1-866-745-CONS (2667)
+ 44 870 974 9686
Daily Poll
YES! Polluters should have to pay for destroying our environment.
78% (7 votes)
YES! And go to GreenWorldRising.org for more info.
22% (2 votes)
Total votes: 9
Today's TV Show

Monday-Friday
7:00 pm-8:00 pm eastern
Aug. 22, 2014 8:58 am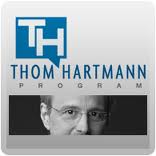 If Earth's resources were a credit card, we have already maxed out our entire allocation for this year. The think thank Global Footprint Network announced that August 19th was "Earth Overshoot Day," meaning that all the resources we use after that day exceed what our planet can produce in a single year.