Today's Radio Show

Monday-Friday
noon-3:00 pm eastern
Tune in on satellite radio at SiriusXM Progress 127
Join Thom in our chatroom during the program!
Missed the live program?
Subscribe to Thom's podcast
Coming up today on The Thom Hartmann Program:
- What Do People Do On Social Media That Makes You Crazy? (Thom Reveals His Pet Peeves Too!)
- How Do You Feel About Elizabeth Warren As VP With Either Bernie Or Hillary?
- Time To Hold Exxon Mobile Accountable for Climate Change Cover-Up - Farron Cousins, Ring of Fire/Trial Lawyer Magazine
Call in Live!
(202) 536-2370
Daily Poll
Yes!
97%
No!
3%
There is no such thing as climate change...
0%
Today's TV Show

Monday-Friday
7:00 pm-8:00 pm eastern
Be sure to join Thom in our chatroom during the program!

Our newest video is here! Watch RESTORATION - plus check out CARBON, LAST HOURS & GREEN WORLD RISING - narrated by Leonardo DiCaprio & Thom Hartmann, directed by Leila Conners
NEED TO KNOW: Exxon is Still Rejecting Climate Change
- Anna Kalinsky, Exxon Shareholder & Climate Activist
- Evan Weber, U.S. Climate Plan
SCREWED: Why Is Government Still Using Floppy Discs? Sam Sacks, The District Sentinel
DAILY TAKE: How Can the GOP Run American Government If They Hate It
CONVERSATIONS WITH GREAT MINDS: Sebastian Junger, Tribe: On Homecoming and Belonging/Vanity Fair
...LIVE from Washington, DC starting at 7pm Eastern...
Latest From The Big Picture
11:30
Scott Greer, The Daily Caller & Max Blumenthal, Alternet/The 51 Day War-Ruin and Resistance in Gaza/RT America & Charles Sauer, The Market Institute all join Thom. Isn't it time that the GOP embrace Trump's outright anti-minority views and finally just put into writing what Republican strategists have been saying for decades behind closed doors and with dogwhistle narratives?
For more information on the stories we've covered visit our websites at thomhartmann.com - freespeech.org - and RT.com. You can also watch tonight's show on Hulu - at Hulu.com/THE BIG PICTURE and over at The Big Picture YouTube page. And - be sure to check us out on Facebook and Twitter!
May. 26, 2016 2:36 pm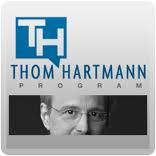 As runaway climate change continues to wreak havoc on the planet, it's getting harder and harder to disagree with the idea that we're in the middle of a potentially massive extinction event. It's also getting harder and harder to ignore the potentially criminal liability of at least some fossil fuel companies for causing this mess.