Today's Headlines From The Hartmann Report
Thursday's Radio Show

Monday-Friday
noon-3:00 pm eastern
Tune in on satellite radio at SiriusXM Progress 127
Join Thom in our chatroom during the program!
Missed the live program?
Subscribe to Thom's podcast
Coming Up Today on The Thom Hartmann Program - Your Home for The Resistance:
Call in Live!
(202) 808-9925
Daily Poll
Yes - they are not obligated to be his bully pulpit...
30%
No - Tweet away Trump....after watching Fox-so-called-news at 3am....
70%
Thursday's TV Show

Monday-Friday
7:00 pm-10:30 pm eastern
Be sure to join Thom in our chatroom during the program!

Our newest video is here! Watch RESTORATION - plus check out CARBON, LAST HOURS & GREEN WORLD RISING - narrated by Leonardo DiCaprio & Thom Hartmann, directed by Leila Conners
BIG PICTURE INTERVIEW: Congress About to Cave To Big Pharma Again...and Again... - America's Lawyer, Mike Papantonio, Ring of Fire Radio/Law and Disorder
BIG PICTURE POLITICS PANEL: Life Is Good If you're Wealthy - Just Check the Stock Market
- Hughey Newsome, Project 21/BOLD.global/Move-On-Up
- Yong Jung Cho, #AllofUs2016
BIG PICTURE FACT: Here's Why - What Big Pharma Wants - It Gets.
...LIVE from Washington, DC starting at 7pm Eastern...
Latest From The Big Picture
11:49
Big Picture Interview: America's Lawyer Mike Papantonio, Ring of Fire Radio/Law and Disorder. Donald Trump has reached a deal with Carrier - or has Carrier reached a deal with Trump?
For more information on the stories we've covered visit our websites at thomhartmann.com - freespeech.org - and RT.com. You can also watch tonight's show on Hulu - at Hulu.com/THE BIG PICTURE and over at The Big Picture YouTube page. And - be sure to check us out on Facebook and Twitter!
Dec. 1, 2016 2:08 pm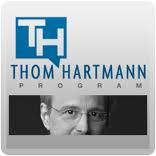 Just a few months ago, Donald Trump was saying things about Wall Street and the big banks that sounded, well, downright progressive.

During an appearance on CBS' Face the Nation, for example, he accused the "hedge fund guys," as he put it, "of getting away with murder."