Wednesday's Radio Show

Monday-Friday
noon-3:00 pm eastern
Tune in on satellite radio at SiriusXM Progress 127
Join Thom in our chatroom during the program!
Missed the live program?
Subscribe to Thom's podcast
Coming Up Today on The Thom Hartmann Program - Your Home for The Resistance:
- Is Trump About to Start the 2nd GOP Great Depression & WW3?
- Should Trump Continue to Use Taxpayer's Money to Bribe Companies to Stay Here? Steve Beaman
...LIVE from Washington, DC starting at 12pm Eastern...
Call in Live!
(202) 808-9925
Daily Poll
Yes! News is Dead....
89%
No! There is no line here.....
11%
Wednesday's TV Show

Monday-Friday
7:00 pm-10:30 pm eastern
Be sure to join Thom in our chatroom during the program!

Our newest video is here! Watch RESTORATION - plus check out CARBON, LAST HOURS & GREEN WORLD RISING - narrated by Leonardo DiCaprio & Thom Hartmann, directed by Leila Conners
THE BIG PICTURE: Is Donald Trump The Master Of BS?
BIG PICTURE INTERVIEW: Should a Climate Denier Be Head of the EPA?! Robert Kennedy Jr., Waterkeeper Alliance
BIG PICTURE PANEL: Sanders Holds Trump's Feet to the Fire Again...
- Alex Pfeiffer, The Daily Caller
- Steve Beaman, Society To Advance Financial Education (SAFE Financial)/The American Dream Under Fire: How Progressive Values Threaten Our Financial Future
BIG PICTURE FACT: The Price of Solar Hits An All Time Low!!
...LIVE from Washington, DC starting at 7pm Eastern...
Latest From The Big Picture
27:55
Thom talks with author and the President of the Waterkeeper Alliance Robert F. Kennedy Jr. about Trump's pick to head the Environmental Protection Agency and the Army Corps of Engineers decision to block the Dakota Access Pipeline. Then, in the Lone Liberal Rumble, Thom talks with Steve Beaman of the Society to Advance Financial Education (SAFE) and Alex Pfeiffer of The Daily Caller about Trump's bribing ways, Capitol Hill's new handout for Big Pharma, and the consequences of repealing Obamacare.
For more information on the stories we've covered visit our websites at thomhartmann.com - freespeech.org - and RT.com. You can also watch tonight's show on Hulu - at Hulu.com/THE BIG PICTURE and over at The Big Picture YouTube page. And - be sure to check us out on Facebook and Twitter!
Dec. 7, 2016 2:19 pm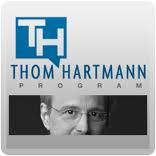 With recount efforts now underway in Michigan - election officials have discovered something strange going on in Wayne County, the home of Detroit, and the largest single county in the state.