Monday's Radio Show

Monday-Friday
noon-3:00 pm eastern
Tune in on satellite radio at SiriusXM Progress 127
Join Thom in our chatroom during the program!
Missed the live program?
Subscribe to Thom's podcast
Coming up today on The Thom Hartmann Program:
- Translating GOP-ese Into Plain English...
- We Have Advice for Anthony Weiner's Weiner...
- One Lawyer's Fight for Environmental Justice in FL - Steven A. Medina
...LIVE from Washington, DC starting at 12pm Eastern...
Call in Live!
(202) 808-9925
Daily Poll
Yes!
11%
No!
25%
Don't know! He flips/flops 2 or 3 times a day.....
64%
Monday's TV Show

Monday-Friday
7:00 pm-8:00 pm eastern
Be sure to join Thom in our chatroom during the program!

Our newest video is here! Watch RESTORATION - plus check out CARBON, LAST HOURS & GREEN WORLD RISING - narrated by Leonardo DiCaprio & Thom Hartmann, directed by Leila Conners
BIG PICTURE PROGRESSIVE ROUNDTABLE:
- Max Blumenthal, AlterNet Grayzone Project/The 51 Day War-Ruin and Resistance in Gaza
- Ben Wikler, MoveOn.org
SPECIAL PANEL GUEST: Big Pharma Bro Has Put America In Crisis - Bonnie Castillo RN, National Nurses United (NNU)
GREEN REPORT: Fracking Could Destroy Your Health - Diana Best, Greenpeace USA
DAILY TAKE: Kaepernick Isn't Unpatriotic, Levi Strauss Is...
...LIVE from Washington, DC starting at 7pm Eastern...
Latest From The Big Picture
57:16
Tonight's Progressive Roundtable discusses Trump starting to talk like a Republican, whether Tim Canova can beat Debbie Wasserman Schultz in tomorrow's primary, and Bill Maher and Michael Moore's visit on Trump's campaign plane. Thom talks the hurdles Colorado is facing to ban fracking with Greenpeace USA's Diana Best and in tonight's Daily Take Thom details Colin Kaepernick's patriotic refusal to stand during the national anthem.
For more information on the stories we've covered visit our websites at thomhartmann.com - freespeech.org - and RT.com. You can also watch tonight's show on Hulu - at Hulu.com/THE BIG PICTURE and over at The Big Picture YouTube page. And - be sure to check us out on Facebook and Twitter!
Aug. 29, 2016 1:24 pm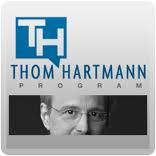 Even the though the season doesn't start for another two weeks, the NFL is already embroiled in controversy.

The latest lightning rod for sports radio hot takes is San Francisco 49ers quarterback Colin Kaepernick, who surprised pretty much everyone last week when he refused to stand for the national anthem during a preseason game against the Green Bay Packers.