Today's Radio Show

Monday-Friday
noon-3:00 pm eastern
Tune in on satellite radio at SiriusXM Progress 127
Join Thom in our chatroom during the program!
Missed the live program?
Subscribe to Thom's podcast
Coming up today on The Thom Hartmann Program:
- Remembering Tom Hayden, Civil Rights and Antiwar Activist Turned Lawmaker, Dies at 76… Rest In Peace - Tom…
- Thom Exposes the Republican's Plan to Destroy Social Security
- The Inside Story…How Big Pharma is Fighting to Block Recreational Marijuana
- Watch Out For The Coming Corporate Tax-Break Trickery
- Oh the Irony! #TrumpGettysburgAddress will take place of a battle of a war started by people who didn't accept the results of an election.
...LIVE from Washington, DC starting at 12pm Eastern...
Call in Live!
(202) 808-9925
Daily Poll
Hillary Clinton
17%
Gary Johnson
33%
Jill Stein
33%
Donald Trump
17%
Today's TV Show

Monday-Friday
7:00 pm-8:00 pm eastern
Be sure to join Thom in our chatroom during the program!

Our newest video is here! Watch RESTORATION - plus check out CARBON, LAST HOURS & GREEN WORLD RISING - narrated by Leonardo DiCaprio & Thom Hartmann, directed by Leila Conners
BIG PICTURE PROGRESSIVE ROUNDTABLE: Trump's Gettysburg Address Isn't All Bad
- Sarah Badawi, Progressive Change Campaign Committee (PCCC)
- Jasmine Jefferson, Social Security Works
BIG PICTURE INTERVIEW: A One Percenter Makes the Case For the Common Good - Chuck Collins, Institute for Policy Studies/Inequality.org/Born on Third Base
...LIVE from Washington, DC starting at 7pm Eastern...
Latest From The Big Picture
1:04:43
For more information on the stories we've covered visit our websites at thomhartmann.com - freespeech.org - and RT.com. You can also watch tonight's show on Hulu - at Hulu.com/THE BIG PICTURE and over at The Big Picture YouTube page. And - be sure to check us out on Facebook and Twitter!
Oct. 24, 2016 2:11 pm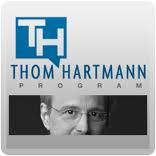 It's Monday - let's get geeky on indoor farming!

Sundrop Farms in the South Australian desert has become the first farm to produce crops without fresh water, soil, or unnecessary energy from the grid.