Thursday's Radio Show

Monday-Friday
noon-3:00 pm eastern
Tune in on satellite radio at SiriusXM Progress 127
Join Thom in our chatroom during the program!
Missed the live program?
Subscribe to Thom's podcast
Coming up today on The Thom Hartmann Program:
- DNC Convention Final Day...Thom Talks Issues and More With Guests Tom Hayden, Terry O'Neill (NOW), Emily Schriock (Emily's List) and CT Gov. Dannel P. Malloy...
- Best of the Rest of the News and YOUR calls...
...LIVE from Washington, DC starting at 12pm Eastern...
Call in Live!
(202) 808-9925
Thursday's TV Show

Monday-Friday
7:00 pm-8:00 pm eastern
Be sure to join Thom in our chatroom during the program!

Our newest video is here! Watch RESTORATION - plus check out CARBON, LAST HOURS & GREEN WORLD RISING - narrated by Leonardo DiCaprio & Thom Hartmann, directed by Leila Conners
NEED TO KNOW: Are Super Delegates Going Away? Christine Pelosi, CA Democratic Party Women's Caucus/DNC Veterans & Military Families Council/Campaign Boot Camp and Campaign Boot Camp 2.0
SCREWED: How Obama & Kaine Played Smart Politics - John Nichols, The Nation Magazine/People Get Ready: The Fight Against a Jobless Economy and a Citizenless Democracy
PLUS, Which Prez Do You Want Picking 4 Supreme Court Judges? Sam Daley-Harris, RESULTS/Center for Citizen Empowerment and Transformation/Reclaiming Our Democracy
BEST OF THE REST: No More War! Dr. Mark Weisbrot, Center for Economic and Policy Research (C.E.P.R.)/Just Foreign Policy/FAILED: What the "Experts" Got Wrong about the Global Economy
PLUS, Pence's Right Wing Views Are Even Scarier Than Trump's - Congressman Mark Pocan (D-WI, 2nd District)
DAILY TAKE: Trump Gets His Talking Points from Storm Front…
...LIVE from Washington, DC starting at 7pm Eastern...
Latest From The Big Picture
57:43
Thom discusses whether the DNC will get rid of superdelegates with superdelegate Christine Pelosi, how Biden and Obama talked up Bernie Sanders in their speeches with The nation's John Nichols, and the contrast between the two conventions with Representative Mark Pocan. In tonight's Daily Take Thom reveals how Trump gets his talking points from white supremacist groups like Stormfront.
For more information on the stories we've covered visit our websites at thomhartmann.com - freespeech.org - and RT.com. You can also watch tonight's show on Hulu - at Hulu.com/THE BIG PICTURE and over at The Big Picture YouTube page. And - be sure to check us out on Facebook and Twitter!
Jul. 28, 2016 2:52 pm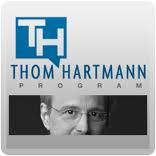 Donald Trump's call on Russia to hack and release Hillary Clinton's deleted emails was one of the stranger moments in what's been one of the stranger campaigns in American history.

It was a sign that Trump is either stupid or trying to join the Ronald Reagan/Richard Nixon club of Republicans who have betrayed their country to get elected president.