Today's Radio Show

Monday-Friday
noon-3:00 pm eastern
Tune in on SiriusXM's The Progress, Channel 127
Catch The Thom Hartmann Program LIVE M-F 12 noon to 3pm ET / Join Thom in our chatroom during the program!

Hour One: Bin Laden calling out from his grave...

Hour Two


Militarization vs. community policing
- Neil McCabe, Guns & Patriots Newsletter



Green World Rising
Check the new video written by Thom, with Leonardo DiCaprio



Talk Radio News
- Victoria Jones

Hour Three


Conservatives push out myth on immigration
- Bishop Council Nedd II, Project 21
Call in Live!
1-866-987-THOM (8466)
1-866-745-CONS (2667)
+ 44 870 974 9686
Daily Poll
YES! We now know how out of control our police forces are.
20% (1 vote)
NO! The police will never give up their war toys.
80% (4 votes)
Total votes: 5
Today's TV Show

Monday-Friday
7:00 pm-8:00 pm eastern
Latest From The Big Picture
Aug. 20, 2014 11:40 am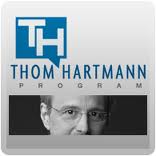 We already know that the Keystone XL pipeline is a disaster waiting to happen. But, it turns out that the impact of that tar sands pipeline could be even worse than we thought. According to a new study by the Stockholm Environmental Institute, Keystone could add four times more carbon pollution to our atmosphere than the State Department originally estimated.