Tuesday's Radio Show

Monday-Friday
noon-3:00 pm eastern
Tune in on satellite radio at SiriusXM Progress 127
Join Thom in our chatroom during the program!
Missed the live program?
Subscribe to Thom's podcast
Coming up today on The Thom Hartmann Program:
Call in Live!
(202) 808-9925
Tuesday's TV Show

Monday-Friday
7:00 pm-8:00 pm eastern
Be sure to join Thom in our chatroom during the program!

Our newest video is here! Watch RESTORATION - plus check out CARBON, LAST HOURS & GREEN WORLD RISING - narrated by Leonardo DiCaprio & Thom Hartmann, directed by Leila Conners
SPECIAL GUEST: The Biggest GOP Names Backing Hillary & Why - Eleanor Clift, The Daily Beast
BIG PICTURE POLITICS PANEL:
- Hughey Newsome, BOLD.global/Move-On-Up
- Anya Parampil, RT America
- Bryan Pruitt, RedState
SPECIAL GUEST: Senator Ron Wyden on the DNC - Senator Ron Wyden (D-OR)
SPECIAL GUEST: Senator Tammy Baldwin on the DNC - Senator Tammy Baldwin (D-WI)
BEST OF THE REST: Why Are the Police Inciting BLM - Max Blumenthal, Grayzone Project-Alternet/The 51 Day War
Latest From The Big Picture
56:58
Thom discusses the GOP neocons supporting Hillary Clinton with The Daily Beast's Eleanor Clift, gun control and privacy issues with Senator Ron Wyden, and LGBT rights with Senator Tammy Baldwin. Tonight's Politics Panel discusses the chaotic DNC Convention and Bernie's speech, and Thom answers your questions and comments in tonight's Your Take, My Take Live.
For more information on the stories we've covered visit our websites at thomhartmann.com - freespeech.org - and RT.com. You can also watch tonight's show on Hulu - at Hulu.com/THE BIG PICTURE and over at The Big Picture YouTube page. And - be sure to check us out on Facebook and Twitter!
Jul. 26, 2016 2:27 pm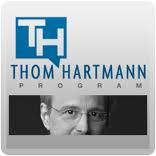 Looks like it.

The Imperial College London, in a study gave patients psilocybin, a hallucinogenic chemical found in the mushrooms.