Today's Radio Show

Monday-Friday
noon-3:00 pm eastern
Tune in on satellite radio at SiriusXM Progress 127
Join Thom in our chatroom during the program!
Missed the live program?
Subscribe to Thom's podcast
Coming up today on The Thom Hartmann Program:
- Will MSNBC ask Gary Johnson about his real Libertarian Roots…?
- Will Trump Bring Out the Cruel Streak in America?
- David Bollier explains the importance of the Commons…
- Is Fat Shaming Part of Trump's New Cruel America? Gayle Trotter, Columnist/Attorney
...LIVE from Washington, DC starting at 12pm Eastern daily (M-F)...
Call in Live!
(202) 808-9925
Daily Poll
Never - The FBI director is more interested in Clinton's email server than in Banksters...
72%
Yes - Some day it will happen....
28%
Tuesday's TV Show

Monday-Friday
7:00 pm-8:00 pm eastern
Be sure to join Thom in our chatroom during the program!

Our newest video is here! Watch RESTORATION - plus check out CARBON, LAST HOURS & GREEN WORLD RISING - narrated by Leonardo DiCaprio & Thom Hartmann, directed by Leila Conners
BIG PICTURE POLITICS PANEL:
- Angela Morabito, StandUnited.org
- Ben Wikler, MoveOn.org
- Bryan Pruitt, RedState
CONVERSATIONS WITH GREAT MINDS: The Wealth Of The Commons - David Bollier, Commons Strategies Group/Patterns of Commoning/The Wealth of the Commons
...LIVE from Washington, DC starting at 7pm Eastern nightly (M-F)...
Latest From The Big Picture
11:54
In our hyper-capitalist, neo-liberal world, belief in the superiority of private property and the free market verges on the religious. In the case of the Republican Party - it borders on the fundamentalist. But as powerful as the idea of the free market might be - especially here in the United States - the truth is that it's not the only way or organizing our society There is a real alternative to the endless commodification of resources and accumulation of wealth. It's called The Commons - and my guest for tonight's Conversations with Great Minds is one of the world's foremost experts on it. Joining me now is David Bollier - Activist -Co-Founder of the Commons Strategies Group - and author numerous books - including "Think Like a Commoner: A Short Introduction to the Life of the Commons."
For more information on the stories we've covered visit our websites at thomhartmann.com - freespeech.org - and RT.com. You can also watch tonight's show on Hulu - at Hulu.com/THE BIG PICTURE and over at The Big Picture YouTube page. And - be sure to check us out on Facebook and Twitter!
Sep. 27, 2016 2:38 pm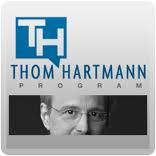 If a blockbuster new report from Newsweek is any indication - a Donald Trump presidency would be one giant conflict of interest.

The problems stem from Trump's massive business empire - the Trump Organization.