Today's Radio Show

Monday-Friday
noon-3:00 pm eastern
Tune in on satellite radio at SiriusXM Progress 127
Join Thom in our chatroom during the program!
Missed the live program?
Subscribe to Thom's podcast
Coming up today on The Thom Hartmann Program:
Call in Live!
(202) 808-9925
Today's TV Show

Monday-Friday
7:00 pm-8:00 pm eastern
Be sure to join Thom in our chatroom during the program!

Our newest video is here! Watch RESTORATION - plus check out CARBON, LAST HOURS & GREEN WORLD RISING - narrated by Leonardo DiCaprio & Thom Hartmann, directed by Leila Conners
BIG PICTURE POLITICS PANEL:
- Bryan Pruitt, Red State
- Alex Lawson, Social Security Works
- Hughey Newsome, BOLD.global/Move-On-Up
BEST OF THE REST: Voting While Black- Jennifer Farmer, Advancement Project
PLUS, The Standing Rock Tribe Speaks Out - Tim Mentz, Standing Rock Sioux Tribe
DAILY TAKE: We Are All Pharma-Bro Suckers
...LIVE from Washington, DC starting at 7pm Eastern...
Latest From The Big Picture
58:02
In tonight's Rumble Thom discusses how restrictions on birth control access are literally killing women in Texas, the benefits of paid family leave, and Aetna dropping out of Obamacare exchanges with Gianno Caldwell, Sam Bennett, and Scott Greer. In tonight's Conversations with Great Minds, Thom discusses the political views of millennials with journalist David Cahn.
For more information on the stories we've covered visit our websites at thomhartmann.com - freespeech.org - and RT.com. You can also watch tonight's show on Hulu - at Hulu.com/THE BIG PICTURE and over at The Big Picture YouTube page. And - be sure to check us out on Facebook and Twitter!
Aug. 22, 2016 1:37 pm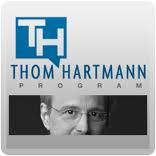 If President Obama doesn't want to be followed by President Trump, he's doing a poor job of showing it.

For months now it's been obvious that THE single biggest thing hurting Hillary Clinton's chances of getting elected president is the Trans-Pacific Partnership.