Today's Radio Show

Monday-Friday
noon-3:00 pm eastern
Tune in on satellite radio at SiriusXM Progress 127
Join Thom in our chatroom during the program!

Be sure to check out our new videos: CARBON & LAST HOURS
- both narrated by Leonardo DiCaprio
Hour One: Thom talks issues of the day with America's Lawyer - Mike Papantonio, Ring of Fire Radio
Hour Two: Geeky Science
Call in Live!
1-866-987-THOM (8466)
1-866-745-CONS (2667)
+ 44 870 974 9686
Daily Poll
YES! We have to stop using non-biodegradable items.
37% (7 votes)
YES! But we need to think of much bigger ways to save the planet!
63% (12 votes)
Total votes: 19
Wednesday's TV Show

Monday-Friday
7:00 pm-8:00 pm eastern

Be sure to check out our new videos: CARBON & LAST HOURS
- both narrated by Leonardo DiCaprio
NEED TO KNOW: It all started with Reagan... Marcy Wheeler, ExposeFacts
LONE LIBERAL RUMBLE:
- Horace Cooper, National Center for Public Policy Research
- Tyler Harber, GOP Strategist

GREEN REPORT: What we can learn from California - Aaron Weil, Environment America
DAILY TAKE: Time for these guys to stop scaring the crap out of us...
. . . LIVE from D.C. starting at 7pm eastern
Latest From The Big Picture
57:59
Thom talks with Investigative Journalist Marcy Wheeler (aka @emptywheel) about the ACLU's new report detailing how President Reagan authorized NSA spying via an executive order in 1981 and California's banning of plastic bags with Environment America's Aaron Weil. Tonight's "Lone Liberal Rumble" discusses the latest school shootings, Rand Paul breaking from his party by wanting people to vote and whether we're seeing the beginning of the end of ALEC. In tonight's "Daily Take" Thom discusses Radio Host Michael Savage's fake hysteria over Ebola.
Sep. 30, 2014 12:17 pm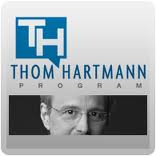 Could you survive with just half of your organs? Think about it. What if you had just half your brain, one kidney, half of your heart, one lung, half a liver and only half of your skin? It would be pretty hard to survive right? Sure, you could survive losing just one kidney or half of your liver, but at some point, losing pieces from all of your organs would be too much and you would die.