Today's Radio Show

Monday-Friday
noon-3:00 pm eastern
Tune in on satellite radio at SiriusXM Progress 127
Join Thom in our chatroom during the program!
Missed the live program?
Subscribe to Thom's podcast
Coming up today on The Thom Hartmann Program:
Call in Live!
(202) 808-9925
Daily Poll
Hillary Clinton
63%
Gary Johnson
0%
Jill Stein
13%
Donald Trump
25%
Tuesday's TV Show

Monday-Friday
7:00 pm-10:30 pm eastern
Be sure to join Thom in our chatroom during the program!

Our newest video is here! Watch RESTORATION - plus check out CARBON, LAST HOURS & GREEN WORLD RISING - narrated by Leonardo DiCaprio & Thom Hartmann, directed by Leila Conners
BIG PICTURE POLITICS PANEL - Whose Fault Is It? Obamacare Rates Are Going Up...
- Hughey Newsome, BOLD.global/Move-On-Up
- Ben Wikler, MoveOn.org
BIG PICTURE INTERVIEW: WA Carbon Tax - Does it Have To Be Perfect? Vien Truong, Green for All/The Dream Corps
...LIVE from Washington, DC starting at 7pm Eastern...
Latest From The Big Picture
12:32
Vien Truong, Green for All/Dream Corps joins Thom. This is the major issue at stake right now in Washington State. It all has to do with a ballot measure that Washington residents will vote on in just two weeks: Initiative 732. If passed - Initiative 732 - or I-732 - would create a $15 per ton tax on carbon - which would then be raised to $25 after one year. To compensate for the costs this tax to working people, I-732 would create - a 1 percent reduction in Washington's sales tax as well as a tax credit of $1,500 for some families on the lower end of the income scale. Sounds pretty good - right? James Hansen - one of the world's leading premier climate scientists thinks so, too -- which is why he's endorsed it. But not everyone thinks Initiatve 732 is such a great idea. Many Washington Sate environmentalists actually oppose the measure and want to kill it on election. Seriously - I'm not kidding. Some enviromentalists oppose a ballot measure that would put in place the first carbon tax in the nation. So is this just a case of making the perfect the enemy of the good - or is there actually a good reason for people who care about stopping climate change to oppose Initiative 732?
For more information on the stories we've covered visit our websites at thomhartmann.com - freespeech.org - and RT.com. You can also watch tonight's show on Hulu - at Hulu.com/THE BIG PICTURE and over at The Big Picture YouTube page. And - be sure to check us out on Facebook and Twitter!
Oct. 25, 2016 1:49 pm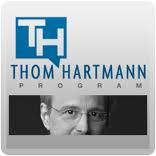 Give Donald Trump some credit: he might be a bigoted crypto-fascist who's taken the Republican Party to the right of Attila the Hun - but every once in a while he's 100 percent correct.

Case in point: his take on AT&T's proposed $85 billion merger with Time Warner.