Tuesday's Radio Show

Monday-Friday
noon-3:00 pm eastern
Tune in on SiriusXM's The Progress, Channel 127
Catch The Thom Hartmann Program LIVE M-F 12 noon to 3pm ET / Join Thom in our chatroom during the program!

Be sure to check out our new video: CARBON
- narrated by Leonardo DiCaprio

Hour One: What is a 'Libertarian?' Austin Petersen, The Libertarian Republic / PLUS, Is there an Iraq strategy? Congresswoman Barbara Lee (D-CA, 13th District)

Hour Two: Immigration-should Obama do what's right for the country...or for Democrats?



Talk Radio News
- Victoria Jones

Hour Three: Sea level rise...what's the plan? Dr. Sally Brown, University of Southampton U.K.
Call in Live!
1-866-987-THOM (8466)
1-866-745-CONS (2667)
+ 44 870 974 9686
Daily Poll
YES! Health care should be a right, not a privilege!
83% (10 votes)
YES! Medicare Part E (E for everyone)!
17% (2 votes)
Total votes: 12
Tuesday's TV Show

Monday-Friday
7:00 pm-8:00 pm eastern

Be sure to check out our new video: CARBON
- narrated by Leonardo DiCaprio
NEED TO KNOW: ISIS executes another American - Tom Hayden, Peace & Justice Resource Center / Inspiring Participatory Democracy
BIG PICTURE POLITICS PANEL:
- Scott Greer, The Daily Caller
- Ben Cohen, The Daily Banter
- David Hogberg PhD, National Center for Public Policy Research

BEST OF THE REST: Detroit...bankruptcy on trial - Pastor D. Alexander Bullock, Change Agent Consortium (ActionCAC)
DAILY TAKE: The GOP war on workers has killed again...
. . . LIVE from D.C. starting at 7pm eastern
Latest From The Big Picture
57:58
Thom discusses the beheading of journalist Steven Sotloff with Author and Activist Tom Hayden and how the fate of Detroit is resting in Judge Steven Rhodes' hands with the Change Agent Consortium's Pastor D. Alexander Bullock. Tonight's "Politics Panel" talks the decrease in the cost of the Medicare program, Obama's "no strategy" comment and whether Sen. McConnell will actually lose in November. In tonight's "Daily Take" Thom discusses how conservative policies have claimed another life.
Sep. 2, 2014 11:08 am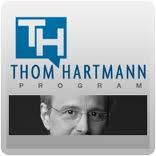 It's time to stop the conservative's war on working people in America.

Since the birth of our nation, conservatives have always been wary of average working-class Americans having too much political or economic power. John Adams, the second President of the United States and a Federalist (precursor to today's Republicans), was very wary of the working class, which he referred to as "the rabble."