Today's Headlines From The Hartmann Report
Wednesday's Radio Show

Monday-Friday
noon-3:00 pm eastern
Tune in on satellite radio at SiriusXM Progress 127
Join Thom in our chatroom during the program!
Missed the live program?
Subscribe to Thom's podcast
Coming up today on The Thom Hartmann Program:
- Trump Victory...Did GOP Voters Just Reject the Republican Party? Jamie Weinstein, The Daily Caller
- What's Really Going On Behind The Scenes With CO Single Payer Battle? Plus, Paul Ryan Sure Sounds Like a Candidate... - Lee Fang, The Intercept
- What You Need To Know About Living Greener - Dr. Corinna Basler, Green Festivals (Check Out the DC Green Festival May 6-8, DC Convention Center)
Call in Live!
(202) 536-2370
Daily Poll
YES! They have no choice. Trump will be the nominee.
46%
NO! The establishment will try to defeat him at the convention.
54%
Wednesday's TV Show

Monday-Friday
7:00 pm-8:00 pm eastern
Be sure to join Thom in our chatroom during the program!

Our newest video is here! Watch RESTORATION - plus check out CARBON, LAST HOURS & GREEN WORLD RISING - narrated by Leonardo DiCaprio & Thom Hartmann, directed by Leila Conners
NEED TO KNOW: The GOP's Trump Dilemma... America's Lawyer Mike Papantonio, Ring of Fire
BIG PICTURE RUMBLE:
- Judson Phillips, Tea Party Nation
- Joel Silberman, Democracy Partners
- Charles Sauer, The Market Institute
DAILY TAKE: WOW! Republicans Have Rejected the Republican Party!
...LIVE from Washington, DC starting at 7pm Eastern...
Latest From The Big Picture
57:29
Tonight's Rumble discusses whether the GOP's small government policies will end with Trump, whether another Republican will run against Trump as an independent, and why Republicans are spending so much time thinking about what people do in the bathroom. Thom discusses the presidential race and the baby powder settlement with attorney and radio host Mike Papantonio and in tonight's Daily Take Thom details what a Trump nomination means for the Republican party.
For more information on the stories we've covered visit our websites at thomhartmann.com - freespeech.org - and RT.com. You can also watch tonight's show on Hulu - at Hulu.com/THE BIG PICTURE and over at The Big Picture YouTube page. And - be sure to check us out on Facebook and Twitter!
May. 4, 2016 12:47 pm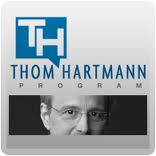 Now that John Kasich and Ted Cruz have dropped out, it's pretty much official: Donald Trump is the 2016 Republican nominee for president.

The pundits never saw this coming, but they should have. The Republican Party has been running a scam on its base for decades now, and voters were bound to discover this scam sooner or later.