Today's Headlines From The Hartmann Report
Monday's Radio Show

Monday-Friday
noon-3:00 pm eastern
Tune in on satellite radio at SiriusXM Progress 127
Join Thom in our chatroom during the program!
Missed the live program?
Subscribe to Thom's podcast
Coming up today on The Thom Hartmann Program:
- What Are the Core Values of the Democratic Party?
- Cash for Kidneys? You May Be Able To Sell Your Body Parts Soon...If You're Poor
- How You Can Sue For Climate Change Action - Professor Erwin Chemerinsky, UC Irvine School of Law
Call in Live!
(202) 536-2370
Daily Poll
Yes!
100%
No!
0%
There is no such thing as climate change...
0%
Monday's TV Show

Monday-Friday
7:00 pm-8:00 pm eastern
Be sure to join Thom in our chatroom during the program!

Our newest video is here! Watch RESTORATION - plus check out CARBON, LAST HOURS & GREEN WORLD RISING - narrated by Leonardo DiCaprio & Thom Hartmann, directed by Leila Conners
NEED TO KNOW: LIVE From Baltimore...Judge Clears Officer in Freddie Gray Death - Anya Parampil, RT
BIG PICTURE PROGRESSIVE ROUNDTABLE:
- Mike Lux, Democracy Partners/The Progressive Revolution: How The Best In America Came To Be
- Lacy Crawford, Social Security Works
CONVERSATIONS WITH GREAT MINDS: Joel D. Joseph, Made In the USA Foundation/Inequality in America: 10 Causes and 10 Cures
...LIVE from Washington, DC starting at 7pm Eastern...
Latest From The Big Picture
1:01:31
Tonight's Progressive Roundtable discusses the ruling in the Freddie Gray case, Bernie's support of the DNC Chair's primary challenger Tim Canova, and how Bernie supporters are suing to extend the voter registration deadline in California. In tonight's Conversations with Great Minds Thom discusses how to combat inequality with Made in USA Foundation's Joel D. Joseph, author of the new book "Inequality in America: 10 Causes and 10 Cures."
May. 23, 2016 1:49 pm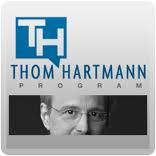 Did you know there are foods that help with Chronic inflammation?

Well...A new study by the University of Liverpool's Institute of Ageing and Chronic Disease, is identifying food that can help prevent chronic inflammation that leads to many causes of death.