Today's Radio Show

Monday-Friday
noon-3:00 pm eastern
Tune in on SiriusXM's The Progress, Channel 127
Catch The Thom Hartmann Program LIVE M-F 12 noon to 3pm ET / Join Thom in our chatroom during the program!

Be sure to check out our new video: CARBON
- narrated by Leonardo DiCaprio

Hour One: What is a 'Libertarian?' Austin Petersen, The Libertarian Republic / PLUS, Is there an Iraq strategy? Congresswoman Barbara Lee (D-CA, 13th District)

Hour Two: Immigration-should Obama do what's right for the country...or for Democrats?



Talk Radio News
- Victoria Jones

Hour Three: Sea level rise...what's the plan? Dr. Sally Brown, University of Southampton U.K.
Call in Live!
1-866-987-THOM (8466)
1-866-745-CONS (2667)
+ 44 870 974 9686
Daily Poll
YES! Health care should be a right, not a privilege!
80% (4 votes)
YES! Medicare Part E (E for everyone)!
20% (1 vote)
Total votes: 5
Friday's TV Show

Monday-Friday
7:00 pm-8:00 pm eastern

Be sure to check out our new video: CARBON
- narrated by Leonardo DiCaprio
BIG PICTURE RUMBLE:
- Kevin Martin, Project 21
- Sabrina Joy Stevens, Integrity in Education
- Peter Roff, U.S. News & World Report
CONVERSATIONS WITH GREAT MINDS: David DeGraw, The Economics of Revolution (out 9/17)
. . . LIVE from D.C. starting at 7pm eastern
Latest From The Big Picture
12:32
In tonight's "Conversations with Great Minds" Thom talks with Journalist David DeGraw, author of the upcoming book "The Economics of Revolution."
Sep. 2, 2014 11:08 am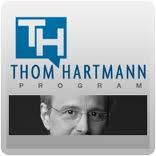 It's time to stop the conservative's war on working people in America.

Since the birth of our nation, conservatives have always been wary of average working-class Americans having too much political or economic power. John Adams, the second President of the United States and a Federalist (precursor to today's Republicans), was very wary of the working class, which he referred to as "the rabble."