Tuesday's Radio Show

Monday-Friday
noon-3:00 pm eastern
Tune in on satellite radio at SiriusXM Progress 127
Join Thom in our chatroom during the program!
Missed the live program?
Subscribe to Thom's podcast
Coming up today on The Thom Hartmann Program:
Call in Live!
(202) 808-9925
Tuesday's TV Show

Monday-Friday
7:00 pm-8:00 pm eastern
Be sure to join Thom in our chatroom during the program!

Our newest video is here! Watch RESTORATION - plus check out CARBON, LAST HOURS & GREEN WORLD RISING - narrated by Leonardo DiCaprio & Thom Hartmann, directed by Leila Conners
BIG PICTURE POLITICS PANEL:
- Bryan Pruitt, Red State
- Alex Lawson, Social Security Works
- Hughey Newsome, BOLD.global/Move-On-Up
BEST OF THE REST: Voting While Black- Jennifer Farmer, Advancement Project
PLUS, The Standing Rock Tribe Speaks Out - Tim Mentz, Standing Rock Sioux Tribe
DAILY TAKE: We Are All Pharma-Bro Suckers
...LIVE from Washington, DC starting at 7pm Eastern...
Latest From The Big Picture
1:00:24
Tonight's Politics Panel talks Trump's call to transform America into a police state, whether Hillary's close ties to The Clinton Foundation really mean anything, and whether felons should vote. Thom discusses how African Americans wait far longer than whites when voting with the Advancement Project's Jennifer Farmer and in tonight's Daily Take Thom discusses the latest pharmaceutical company gouging the price of their drugs.
For more information on the stories we've covered visit our websites at thomhartmann.com - freespeech.org - and RT.com. You can also watch tonight's show on Hulu - at Hulu.com/THE BIG PICTURE and over at The Big Picture YouTube page. And - be sure to check us out on Facebook and Twitter!
Aug. 23, 2016 2:42 pm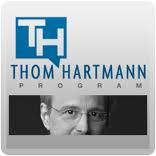 "Pharma Bro" Martin Shkreli became one of the most notorious people in America for hiking the price of a rarely used life-saving drug by 4,000 percent in September of 2015.

And nearly a year later, dozens of reports are now coming out about how Mylan Pharmaceuticals hiked the price of the very common life-saving EpiPen by over 450% since Mylan bought EpiPen in 2007.