Today's Radio Show

Monday-Friday
noon-3:00 pm eastern
Tune in on satellite radio at SiriusXM Progress 127
Join Thom in our chatroom during the program!
Missed the live program?
Subscribe to Thom's podcast
Coming up today on The Thom Hartmann Program:
- Will Donald Trump Be the End of the Christian Right?
- Will the GOP Choose Jobs Over God? Judson Phillips, Tea Party Nation
- The 411 on the TTIP...What You Need To Know
- Want to Know How You Can Live Greener? Dr. Corinna Basler, Green Festivals
Call in Live!
(202) 536-2370
Daily Poll
YES! They will vote for him over any Democrat.
0%
NO! His misogyny will purge women from the party.
100%
Monday's TV Show

Monday-Friday
7:00 pm-8:00 pm eastern
Be sure to join Thom in our chatroom during the program!

Our newest video is here! Watch RESTORATION - plus check out CARBON, LAST HOURS & GREEN WORLD RISING - narrated by Leonardo DiCaprio & Thom Hartmann, directed by Leila Conners
NEED TO KNOW: TTIP...New Docs Reveal It's Worse Than You Know
- Melinda St. Louis, Public Citizen's Global Trade Watch
- Charlie Cray, Greenpeace USA
PROGRESSIVE ROUNDTABLE:
- Alex Lawson, Social Security Works
- Sarah Badawi, Progressive Change Campaign Committee (PCCC)
PLUS, SPECIAL PANEL GUEST: When Corporations Kill... Patty Lovera, Food and Water Watch
WITH SPECIAL PANEL GUEST: Is Hanford A Bigger Threat Than Fukushima? Kevin Kamps, Beyond Nuclear
...LIVE from Washington, DC starting at 7pm Eastern...
Latest From The Big Picture
58:10
Tonight's Rumble discusses Trump's strategy of trying to win over Bernie supporters, whether Trump's "Make America Great Again" slogan is anti-Semitic, and how the country should follow Vermont's lead and make voter registration automatic. And in tonight's Conversations with Great Minds Thom discusses the world of post-truth politics with radio host Ari Rabin-Havt, co-author of the new book "Lies, Incorporated: The World of Post-Truth Politics."
For more information on the stories we've covered visit our websites at thomhartmann.com - freespeech.org - and RT.com. You can also watch tonight's show on Hulu - at Hulu.com/THE BIG PICTURE and over at The Big Picture YouTube page. And - be sure to check us out on Facebook and Twitter!
May. 2, 2016 10:41 am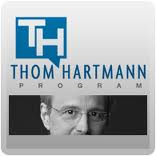 Thanks to the FCC, two-thirds of our nation's high-speed internet subscribers may soon be under the control of just two companies.

According to a recent article over at CommonDreams.org, that agency has approved Charter Communication's $90 billion dollar takeover of two other cable providers: Time Warner and Bright House Networks.