Today's Radio Show

Monday-Friday
noon-3:00 pm eastern
Tune in on SiriusXM's The Progress, Channel 127
Call in Live!
1-866-987-THOM (8466)
1-866-745-CONS (2667)
+ 44 870 974 9686
Daily Poll
YES! Voters don't want a Koch puppet representing them.
56% (10 votes)
NO! He said nothing that would upset his radical base.
44% (8 votes)
Total votes: 18
Today's TV Show

Monday-Friday
7:00 pm-8:00 pm eastern

Be sure to check out our new video: CARBON
- narrated by Leonardo DiCaprio

DAILY TAKE

BEST OF THE REST

SCREWED NEWS

NEED TO KNOW
. . . LIVE from D.C. starting at 7pm eastern
Latest From The Big Picture
58:00
Thom discusses the secret audio of Sen. Mitch McConnell's plan to screw over the middle class with Attorney and Radio Host Mike Papantonio and whether Obama can still consider himself a progressive with Salon's Thomas Frank. In tonight's "Daily Take" Thom discusses what America would be like under Libertarian rule.
Aug. 28, 2014 2:34 pm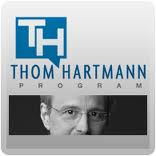 If you want to know what libertarianism is all about, don't ask a libertarian, because most of them don't know.