Today's Radio Show

Monday-Friday
noon-3:00 pm eastern
Tune in on satellite radio at SiriusXM Progress 127
Join Thom in our chatroom during the program!
Missed the live program?
Subscribe to Thom's podcast
Coming up today on The Thom Hartmann Program:
- Remembering Tom Hayden, Civil Rights and Antiwar Activist Turned Lawmaker, Dies at 76… Rest In Peace - Tom…
- Thom Exposes the Republican's Plan to Destroy Social Security
- The Inside Story…How Big Pharma is Fighting to Block Recreational Marijuana
- Watch Out For The Coming Corporate Tax-Break Trickery
- Oh the Irony! #TrumpGettysburgAddress will take place of a battle of a war started by people who didn't accept the results of an election.
...LIVE from Washington, DC starting at 12pm Eastern...
Call in Live!
(202) 808-9925
Daily Poll
Hillary Clinton
0%
Al Smith
0%
Donald Trump
100%
Friday's TV Show

Monday-Friday
7:00 pm-8:00 pm eastern
Be sure to join Thom in our chatroom during the program!

Our newest video is here! Watch RESTORATION - plus check out CARBON, LAST HOURS & GREEN WORLD RISING - narrated by Leonardo DiCaprio & Thom Hartmann, directed by Leila Conners
In for Thom tonight, please welcome Sam Sacks, The District Sentinel...
BIG PICTURE RUMBLE:
- Scott Greer, The Daily Caller
- Lee Camp, Redacted Tonight with Lee Camp/RT America
- Siraj Hashmi, Red Alert Politics
BEST OF THE REST: Will the REAL Journalists Please Stand Up - Jan Frel, AlterNet
DAILY TAKE: Stop the BiPartisan Dreaming!!
...LIVE from Washington, DC starting at 7pm Eastern...
Latest From The Big Picture
1:01:30
Guest host Sam Sacks is in for Thom Hartmann and discusses how Trump has exposed the problem with journalism in this country with Alternet's Jan Frel and in tonight's Daily Take Thom details why bipartisanship no longer works in Washington. Tonight's Rumble talks Paul Ryan's fear of Bernie becoming the chair of the Senate Budget Committee, Obama's trashing of the GOP at a Hillary event, and Trump's bizarre speech at last night's Al Smith dinner.
Oct. 21, 2016 1:55 pm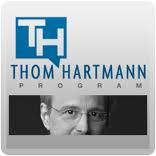 The chairman of the White House Council of Economic Advisers, Jason Furman, recently wrote in the Washington Post that "Last year saw the largest single-year reduction in poverty since the 1960s."