Today's Radio Show

Monday-Friday
noon-3:00 pm eastern
Tune in on satellite radio at SiriusXM Progress 127
Be sure to join Thom in our chatroom during the program!

Be sure to check out our new videos: CARBON, LAST HOURS & GREEN WORLD RISING - narrated by Leonardo DiCaprio
Hour One: The dark $ behind religious 'freedom' laws / Plus, Is Indiana Gov. Mike Pence trying to walk it back ?
Hour Three: Seattle City Council says NO to TPP fast track - Kshama Sawant, Seattle City Council
Call in Live!
(202) 536-2370
Daily Poll
YES! Anti-gay groups just want a legal way to refuse service to gays.
100% (18 votes)
NO! People shouldn't have to ignore their beliefs to run a business.
0% (0 votes)
Total votes: 18
Today's TV Show

Monday-Friday
7:00 pm-8:00 pm eastern

Be sure to check out our new videos: CARBON, LAST HOURS & GREEN WORLD RISING - narrated by Leonardo DiCaprio
NEED TO KNOW: Iran nuclear negotiations...deal or no deal?
- Jamal Abdi, National Iranian American Council (NIAC)
- Gareth Porter, Manufactured Crisis: The Untold Story of the Iran Nuclear Scare
BIG PICTURE POLITICS PANEL
- Jennifer Kerns, Washington Times / The Blaze
- Tommy Christopher, The Daily Banter
- Nathan Leamer, R Street Institute
DAILY TAKE: When is the next ice age?
. . . LIVE from D.C. starting at 7pm eastern
Latest From The Big Picture
08:06
Lisa Gilbert, Public Citizen's Money In Politics Campaign & Congress Watch division joins Thom Hartmann. Our democracy has more corporate cash floating around in it than ever before - and a lot of that money is shrouded in secrecy. What can President Obama do right now to make corporate donations a lot more transparent?
For more information on the stories we've covered visit our websites at thomhartmann.com - freespeech.org - and RT.com. You can also watch tonight's show on Hulu - at Hulu.com/THE BIG PICTURE and over at The Big Picture YouTube page. And - be sure to check us out on Facebook and Twitter!
Mar. 30, 2015 12:20 pm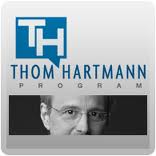 One of the really weird ironies of politics these days is the huge divergence between what the American people actually want and what the radical right-wingers in Washington actually do. You won't hear this on Fox So-Called News, but right now the American people are as progressive as they ever have been.

Don't believe me? Just check the polls.