Today's Radio Show

Monday-Friday
noon-3:00 pm eastern
Tune in on SiriusXM's The Progress, Channel 127
Call in Live!
1-866-987-THOM (8466)
1-866-745-CONS (2667)
+ 44 870 974 9686
Daily Poll
YES! Let's stop giving our money to tax-dodging companies!
91% (10 votes)
NO! Boycotts mostly hurt workers & franchise owners.
9% (1 vote)
Total votes: 11
Today's TV Show

Monday-Friday
7:00 pm-8:00 pm eastern

Be sure to check out our new video: CARBON
- narrated by Leonardo DiCaprio

DAILY TAKE

BEST OF THE REST

SCREWED NEWS

NEED TO KNOW
. . . LIVE from D.C. starting at 7pm eastern
Latest From The Big Picture
57:58
Tonight's "Politics Panel" talks Burger King's plan to avoid paying U.S. taxes, the cost of the GOP's lawsuit against our President and Rand Paul calling Hillary Clinton a "war hawk." Thom discusses suburban poverty with The Brookings Institution's Elizabeth Kneebone and in tonight's "Daily Take" Thom discusses how a carbon tax would help slow the melting of our planet's ice sheets.
Aug. 26, 2014 12:17 pm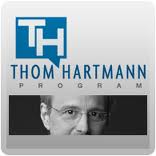 So, what do a major investment from Verizon Wireless and the melting of our polar ice caps have in common? A lot more than you may think. On Monday, America's largest wireless provider announced that it will be making a $40 million investment in solar power at eight of its facilities across the United States.