Today's Radio Show

Monday-Friday
noon-3:00 pm eastern
Tune in on satellite radio at SiriusXM Progress 127
Join Thom in our chatroom during the program!
Missed the live program?
Subscribe to Thom's podcast
Coming up today on The Thom Hartmann Program:
- The Heal Donald Trump Health Initiative...
- Is the Apocalypse Upon Us...?
...LIVE from Washington, DC starting at 12pm Eastern...
Call in Live!
(202) 808-9925
Daily Poll
Yes!
10%
No!
26%
Don't know! He flips/flops 2 or 3 times a day.....
65%
Today's TV Show

Monday-Friday
7:00 pm-8:00 pm eastern
Be sure to join Thom in our chatroom during the program!

Our newest video is here! Watch RESTORATION - plus check out CARBON, LAST HOURS & GREEN WORLD RISING - narrated by Leonardo DiCaprio & Thom Hartmann, directed by Leila Conners
NEED TO KNOW: Could Hillary's New Mental Health Initiative Help Trump? America's Lawyer, Mike Papantonio, Ring of Fire Radio/Law and Disorder (at bookstores 9/20/16)
BIG PICTURE RUMBLE:
- Charles Sauer, The Market Institute
- Alex Lawson, Social Security Works
- Alex Pfeiffer, The Daily Caller
BEST OF THE REST: Starving the Beast - Steve Mims, STARVING THE BEAST
DAILY TAKE: Bus Drivers Shouldn't Pay More Taxes Than Millionaires
...LIVE from Washington, DC starting at 7pm Eastern...
Latest From The Big Picture
1:06:05
Tonight's Rumble discusses how much coverage the media is giving to the Trump campaign, whether the DHS will end private for-profit detention centers, and why no one cared that Colin Powell had a foundation when he was secretary of state. Thom talks Trump's visit to Mexico and Debbie Wasserman Schutlz's primary win with attorney and radio host Mike Papantonio and in tonight's Daily Take Thom details Reagan's idea that bus drivers shouldn't pay more taxes than millionaires.
For more information on the stories we've covered visit our websites at thomhartmann.com - freespeech.org - and RT.com. You can also watch tonight's show on Hulu - at Hulu.com/THE BIG PICTURE and over at The Big Picture YouTube page. And - be sure to check us out on Facebook and Twitter!
Aug. 31, 2016 2:57 pm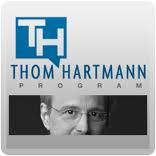 Way back in 1985, President Ronald Reagan outlined a very simple principle of tax fairness during a speech at Northside High School in Atlanta, Georgia.

Loopholes that allowed millionaires to pay less in taxes in bus drivers, he said, were crazy