Today's Radio Show

Monday-Friday
noon-3:00 pm eastern
Tune in on satellite radio at SiriusXM Progress 127
Join Thom in our chatroom during the program!
Missed the live program?
Subscribe to Thom's podcast
Coming up today on The Thom Hartmann Program - Your Home for the Resistance:
- Donald Trump Is About To Undo Obama's Legacy On Climate Change - just as we're in the midst of climate tipping points....wow!
- The Left Restored is Mightier Than Le Pen - Paris-based Journalist Cole Stangler
- Why the Debate Over Financial Reform is Bogus
...LIVE from Washington, DC starting at 12pm Eastern...
Call in Live!
(202) 808-9925
Daily Poll
Welfare for Big Business...
94%
A Great Stimulus
6%
Today's TV Show

Monday-Friday
7:00 pm-10:30 pm eastern
Be sure to join Thom in our chatroom during the program!

Our newest video is here! Watch RESTORATION - plus check out CARBON, LAST HOURS & GREEN WORLD RISING - narrated by Leonardo DiCaprio & Thom Hartmann, directed by Leila Conners
THE BIG PICTURE: Does the Falling Stockmarket Mean Trump is the Next Hoover?
BIG PICTURE INTERVIEW: The Trump Stock Market Rally In Jeopardy - Economist Dr. Richard Wolff, Capitalism's Crisis Deepens: Essays on the Global Economic Meltdown/Democracy At Work
BIG PICTURE PANEL: Trump Undoing Climate Protections At Critical Time
- Sam Sacks, The District Sentinel News Co-op
- Bryan Pruitt, Red State
BIG PICTURE FACT: Large Scale Area of Acidified Ocean Water Found...
…LIVE from Washington, DC starting at 7pm Eastern…
Latest From The Big Picture
00:24
Big Picture Fact Of the Day...
For more information on the stories we've covered visit our websites at thomhartmann.com - freespeech.org - and RT.com. You can also watch tonight's show on Hulu - at Hulu.com/THE BIG PICTURE and over at The Big Picture YouTube page. And - be sure to check us out on Facebook and Twitter!
Mar. 28, 2017 2:26 pm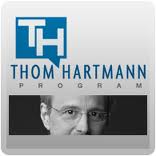 Republicans got one thing right during their failed attempt to repeal Obamacare: Americans DO want more choice.

So why aren't they getting behind Bernie Sanders as he pushes for the one thing that can give Americans real choice -- Medicare-for-all?