Friday's Radio Show

Monday-Friday
noon-3:00 pm eastern
Tune in on satellite radio at SiriusXM Progress 127
Join Thom in our chatroom during the program!
Missed the live program?
Subscribe to Thom's podcast
Coming up today on The Thom Hartmann Program - Your Home for the Resistance:
It's Anything Goes Friday...Call Thom and Tell Him What's on Your Mind
...LIVE from Washington, DC starting at 12pm Eastern...
Call in Live!
(202) 808-9925
Friday's TV Show

Monday-Friday
7:00 pm-10:30 pm eastern
Be sure to join Thom in our chatroom during the program!

Our newest video is here! Watch RESTORATION - plus check out CARBON, LAST HOURS & GREEN WORLD RISING - narrated by Leonardo DiCaprio & Thom Hartmann, directed by Leila Conners
THE BIG PICTURE: Amy Goodman: "How To Fight Trump's Anti-Immigrant Bigotry"
BIG PICTURE INTERVIEW: Immigrants Lead the New May Day Resistance - Amy Goodman, Democracy Now
BIG PICTURE PANEL: Trump's FCC Waging War on Net Neutrality
- Scott Greer, The Daily Caller
- Valerie Ervin, Working Families Party
BIG PICTURE FACT: Worrying is Surprisingly Good for You...
...LIVE from Washington, DC starting at 7pm Eastern...
Latest From The Big Picture
27:59
On tonight's Big Picture, Thom discusses Trump's crackdown on immigrants and the growing movement against his administration with Amy Goodman, Host of Democracy Now. Then, Thom talks to Scott Greer of the Daily Caller and Valerie Ervin of the Working Families Party about Trump's tax plan and Republicans failing to get enough support for their latest healthcare plan.
For more information on the stories we've covered visit our websites at thomhartmann.com - freespeech.org - and RT.com. You can also watch tonight's show on Hulu - at Hulu.com/THE BIG PICTURE and over at The Big Picture YouTube page. And - be sure to check us out on Facebook and Twitter!
Apr. 28, 2017 2:42 pm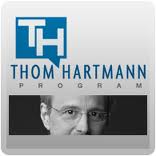 Donald Trump won't be pulling the US out of NAFTA - at least not immediately.

But he's still permanently changed the debate about trade in America.

Donald Trump said yesterday that after speaking with the President of Mexico and the Prime Minister of Canada, he's decided not to immediately pull the US out of NAFTA.