Today's Headlines From The Hartmann Report
Tuesday's Radio Show

Monday-Friday
noon-3:00 pm eastern
Tune in on satellite radio at SiriusXM Progress 127
Join Thom in our chatroom during the program!
Missed the live program?
Subscribe to Thom's podcast
Coming up today on The Thom Hartmann Program - Your Home for the Resistance:
Call in Live!
(202) 808-9925
Tuesday's TV Show

Monday-Friday
7:00 pm-10:30 pm eastern
Be sure to join Thom in our chatroom during the program!

Our newest video is here! Watch RESTORATION - plus check out CARBON, LAST HOURS & GREEN WORLD RISING - narrated by Leonardo DiCaprio & Thom Hartmann, directed by Leila Conners
THE BIG PICTURE:Can Le Pen Win & The Impact
BIG PICTURE INTERVIEW: The Crisis in Venezuela
Dr. Mark Weisbrot, Center for Economic & Policy Research/Just Foreign Policy/FAILED: What the "Experts" Got Wrong about the Global Economy
BIG PICTURE PANEL: Trump Is Outsourcing Gov. Contracts
- Bryan Pruitt, Red State
- Kymone Freeman, We Act Radio/Black Lives Matter DC
BIG PICTURE FACT: The $$ Damage BP Did to the Planet
...LIVE from Washington, DC starting at 7pm Eastern...
Latest From The Big Picture
27:44
On tonight's Big Picture, Thom discusses the French elections along with the current political crisis in Venezuela with economist and author Dr. Mark Weisbrot. Then, Thom talks to Bryan Pruitt and Kymone Freeman of We Act Radio about a judge blocking Trump's order to deny funds to sanctuary cities, and how a speech by Barack Obama could impact his brand.
For more information on the stories we've covered visit our websites at thomhartmann.com - freespeech.org - and RT.com. You can also watch tonight's show on Hulu - at Hulu.com/THE BIG PICTURE and over at The Big Picture YouTube page. And - be sure to check us out on Facebook and Twitter!
Apr. 25, 2017 3:10 pm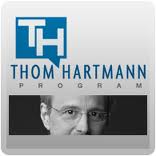 The more things change - the more they stay the same.

Just under 100 days into the Trump era, our government is once again lurching towards shutdown, and it's all because Donald Trump wants American taxpayers - not Mexico - to pay for his precious border wall.