Today's Radio Show

Monday-Friday
noon-3:00 pm eastern
Tune in on satellite radio at SiriusXM Progress 127
Join Thom in our chatroom during the program!
Missed the live program?
Subscribe to Thom's podcast
Coming up today on The Thom Hartmann Program - Your Home for the Resistance:
It's Anything Goes Friday...Call Thom and Tell Him What's on Your Mind
...LIVE from Washington, DC starting at 12pm Eastern...
Call in Live!
(202) 808-9925
Thursday's TV Show

Monday-Friday
7:00 pm-10:30 pm eastern
Be sure to join Thom in our chatroom during the program!

Our newest video is here! Watch RESTORATION - plus check out CARBON, LAST HOURS & GREEN WORLD RISING - narrated by Leonardo DiCaprio & Thom Hartmann, directed by Leila Conners
THE BIG PICTURE: 100 Days Into the "For-Profit Presidency"
BIG PICTURE INTERVIEW: President Trump's Corporate Government - Susan Harley, Public Citizen's Congress Watch
BIG PICTURE PANEL: Trump Going Back On His NAFTA Promise
- Rob Mariani, The Daily Caller
- Vien Truong, Green for All/Dream Corps
BIG PICTURE FACT: How Extinction Is Vastly Underestimated
...LIVE from Washington, DC starting at 7pm Eastern...
Latest From The Big Picture
27:58
On tonight's Big Picture, Thom discusses Trump's first 100 days in office and whether he's turned government into a business with Susan Harley of Public Citizen's Congress Watch. Then, Thom talks to Rob Mariani of the Daily Caller and Vien Truong of Green for All about Trump's plan to renegotiate NAFTA and California lawmakers moving forward with a single-payer health plan.
For more information on the stories we've covered visit our websites at thomhartmann.com - freespeech.org - and RT.com. You can also watch tonight's show on Hulu - at Hulu.com/THE BIG PICTURE and over at The Big Picture YouTube page. And - be sure to check us out on Facebook and Twitter!
Apr. 27, 2017 2:32 pm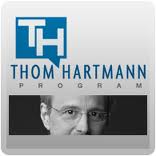 Republicans inched closer to a deal on repealing Obamacare yesterday, as the House Freedom caucus OK'd a new version of the American Health Care Act which is actually worse than the one that couldn't pass Congress back in March.