Monday's Radio Show

Monday-Friday
noon-3:00 pm eastern
Tune in on satellite radio at SiriusXM Progress 127
Join Thom in our chatroom during the program!
Missed the live program?
Subscribe to Thom's podcast
Coming up today on The Thom Hartmann Program - Your Home for the Resistance:
- Thom shares: "My Bizarre Experience of Watching Cable News in America on Earth Day."
- Planet Size Change Starts Here... - Alysia Reiner, Orange is the New Black/Cool Effect
- LePen is Winning Because Globalism is Dying - Paris Based Journalist, Cole Stangler
- Flint's Water Woes Continue w/Protestor Arrests... LaTricea Adams, Black Millenials for Flint
...LIVE from Washington, DC starting at 12pm Eastern...
Call in Live!
(202) 808-9925
Monday's TV Show

Monday-Friday
7:00 pm-10:30 pm eastern
Be sure to join Thom in our chatroom during the program!

Our newest video is here! Watch RESTORATION - plus check out CARBON, LAST HOURS & GREEN WORLD RISING - narrated by Leonardo DiCaprio & Thom Hartmann, directed by Leila Conners
THE BIG PICTURE: My Bizarre Experience Watching Cable News on Earth Day
BIG PICTURE INTERVIEW: People Are Getting Rich By Destroying the Planet - Carl Pope, Climate of Hope (w/Michael Bloomberg)/Sierra Club
BIG PICTURE PANEL: Why Le Pen May Win
- Isaiah Poole, People's Action/Campaign for America's Future
- Bryan Pruitt, RedState
BIG PICTURE FACT: Scientists Show How to Make Your Life Sparkle
...LIVE from Washington, DC starting at 7pm Eastern...
Latest From The Big Picture
00:15
Big Picture Fact Of the Day
For more information on the stories we've covered visit our websites at thomhartmann.com - freespeech.org - and RT.com. You can also watch tonight's show on Hulu - at Hulu.com/THE BIG PICTURE and over at The Big Picture YouTube page. And - be sure to check us out on Facebook and Twitter!
Apr. 24, 2017 3:12 pm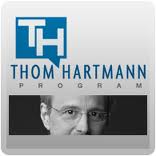 Just exactly what the hell are they afraid of? Are the fossil fuel billionaires, corporations, and lobby really so strong that they can cow entire television networks and newspapers? Not to mention politicians?