Wednesday's Radio Show

Monday-Friday
noon-3:00 pm eastern
Tune in on satellite radio at SiriusXM Progress 127
Join Thom in our chatroom during the program!
Missed the live program?
Subscribe to Thom's podcast
Coming up today on The Thom Hartmann Program - Your Home for the Resistance:
On the show today...
Broadcasting LIVE from the American Postal Workers Union,
Mark Dimondstein, President, on with Thom now....
It's Anything Goes Today!
Call in Live!
(202) 808-9925
Daily Poll
Yes - The Tax Plan will Drive Up Income Inequality...
82%
No - Trickle Down Rules & Doesn't Create Pions...
18%
Latest Videos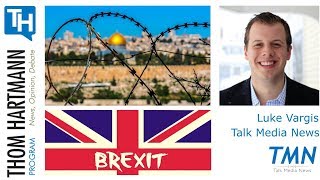 07:35
News on the United Nations Security Council voting 14-1 against Trump's bid to call Jerusalem the capital of Israel. Plus, the Brexit talks finally have a break through.
Dec. 8, 2017 2:30 pm