Wednesday's Radio Show

Monday-Friday
noon-3:00 pm eastern
Tune in on satellite radio at SiriusXM Progress 127
Join Thom in our chatroom during the program!
Missed the live program?
Subscribe to Thom's podcast
Coming up today on The Thom Hartmann Program - Your Home for the Resistance:
Call in Live!
(202) 808-9925
Daily Poll
Welfare for Big Business...
95%
A Great Stimulus
5%
Wednesday's TV Show

Monday-Friday
7:00 pm-10:30 pm eastern
Be sure to join Thom in our chatroom during the program!

Our newest video is here! Watch RESTORATION - plus check out CARBON, LAST HOURS & GREEN WORLD RISING - narrated by Leonardo DiCaprio & Thom Hartmann, directed by Leila Conners
THE BIG PICTURE: Single Payer for Dummies
BIG PICTURE INTERVIEW: Single Payer Pros & Cons - Dr. Robert Zarr, Physicians for a National Health Program
BIG PICTURE PANEL: Trump's Plan To Gut Legal Aid
- Scott Greer, The Daily Caller
- Charles Sauer, The Market Institute
BIG PICTURE FACT: There Are 5 Trillion Pieces Of Plastic in Our Oceans
…LIVE from Washington, DC starting at 7pm Eastern…
Latest From The Big Picture
27:51
On tonight's Big Picture, Thom discusses healthcare reform and how a single-payer system could help Americans with Dr. Robert Zarr, President of Physicians for a National Health Program. Then, Thom talks to Scott Greer of the Daily Caller and Charles Sauer of the Market Institute about a bill scrapping internet privacy protections and the Trump administration getting cozy with the coal industry.
For more information on the stories we've covered visit our websites at thomhartmann.com - freespeech.org - and RT.com. You can also watch tonight's show on Hulu - at Hulu.com/THE BIG PICTURE and over at The Big Picture YouTube page. And - be sure to check us out on Facebook and Twitter!
Mar. 29, 2017 2:54 pm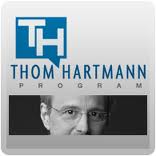 Just as global warming appears to be reaching a dangerous new phase, Donald Trump has begun dismantling what little climate protections we do have.

He's calling it a win for workers.

But who's really going to come out on top?

West Virginia miners or the coal barons who've robbed their state blind?