Today's Headlines From The Hartmann Report
Thursday's Radio Show

Monday-Friday
noon-3:00 pm eastern
Tune in on satellite radio at SiriusXM Progress 127
Join Thom in our chatroom during the program!
Missed the live program?
Subscribe to Thom's podcast
Coming up today on The Thom Hartmann Program - Your Home for the Resistance:
- Where Did "We the People" Go?
- TrumpCare: How Badly Are Republicans Going to Screw Americans for Tax Cuts to the Rich?
- Industry Very, VERY Generous w/13 Senators Now Drafting TrumpCare & Lobbyists Have Already seen the Bill...
- How Karen Handel Suppressed the Vote - Greg Palast, The Best Democracy Money Can Buy
- We Cannot Kill Our Way To Victory in Afghanistan - Kathy Kelly, Voices for Creative Non-Violence/Afghan Peace Volunteers
...LIVE from Washington, DC staring at 12pm Eastern...
Call in Live!
(202) 808-9925
Daily Poll
Yes! The GOP Is Mean Enough...
50%
No! Some Far Right Senators Don't Think It's Mean Enough
50%
Thursday's TV Show

Monday-Friday
7:00 pm-10:30 pm eastern
Be sure to join Thom in our chatroom during the program!

Our newest video is here! Watch RESTORATION - plus check out CARBON, LAST HOURS & GREEN WORLD RISING - narrated by Leonardo DiCaprio & Thom Hartmann, directed by Leila Conners
THE BIG PICTURE: GOP Now Pushing Grandma, Babies & Disabled Over the Cliff
BIG PICTURE INTERVIEW: How Karen Handel Really Won - Greg Palast, The Best Democracy Money Can Buy
BIG PICTURE PANEL: The Secret On TrumpCare Is Now Out
- Dave McCulloch, Capitol Media Partners
- Doug Christian, Political Commentator
…LIVE from Washington, DC starting at 7pm Eastern…
Latest From The Big Picture
28:00
On tonight's Big Picture, Thom discusses the results of Georgia's special election and what may have caused Jon Ossoff to lose with investigative journalist Greg Palast. Then, Thom talks to Dave McCulloch of Capitol Media Partners and political commentator Doug Christian about the Senate GOP's latest version of a healthcare bill and a study finding millennials believe student debt is a bigger problem than North Korea.
For more information on the stories we've covered visit our websites at thomhartmann.com - freespeech.org - and RT.com. You can also watch tonight's show on Hulu - at Hulu.com/THE BIG PICTURE and over at The Big Picture YouTube page. And - be sure to check us out on Facebook and Twitter!
Jun. 22, 2017 2:56 pm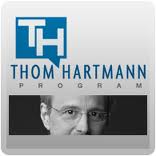 Poll after poll shows that America is a democratic socialist country.

So why do Democrats like failed Georgia congressional candidate Jon Ossoff continue to run on a Republican-lite message? Is it time for Democrats to move left?

After this week's disappointing loss in the special runoff election for 6th District of Georgia, Democrats are looking for answers.