Wednesday's Radio Show

Monday-Friday
noon-3:00 pm eastern
Tune in on satellite radio at SiriusXM Progress 127
Join Thom in our chatroom during the program!
Missed the live program?
Subscribe to Thom's podcast
Coming up today on The Thom Hartmann Program - Your Home for the Resistance:
Call in Live!
(202) 808-9925
Latest Videos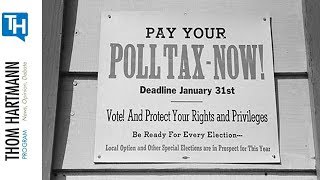 06:35
Republicans are going old school with voter disenfranchisement, and are trying to create a new poll tax, will you be able to pay?
Nov. 22, 2017 3:07 pm
A letter was sent out recently by the American Medical Association, the American Hospital Association, the American Academy of Family Physicians.

You're not hearing Breitbart News or Common Dreams - right or left - organizations or news sites with a point of view other than that they are committed to healing people.