Today's Radio Show

Monday-Friday
noon-3:00 pm eastern
Tune in on satellite radio at SiriusXM Progress 127
Join Thom in our chatroom during the program!
Missed the live program?
Subscribe to Thom's podcast
Coming up today on The Thom Hartmann Program - Your Home for the Resistance:
- Devil's Bargain - Joshua Green on Steve Bannon, Donald Trump, and the Storming of the Presidency
- Should There Be A Litmus Test For Democrats?
- 3 Things You Probably Didn't Know About Humans' Ancient Relationship with Dogs...
- Question: What Popular Idea for Single Payer Healthcare Has Grown So Fast That It Was Recently Featured on the Popular Quiz Show Jeopardy? Answer: Medicare for All
...LIVE from Washington, DC starting at 12pm Eastern...
Call in Live!
(202) 808-9925
Daily Poll
Yes - They are that mean!
93%
No - They will reach out to Dems and do something good?
7%
Friday's TV Show

Monday-Friday
7:00 pm-10:30 pm eastern
Be sure to join Thom in our chatroom during the program!

Our newest video is here! Watch RESTORATION - plus check out CARBON, LAST HOURS & GREEN WORLD RISING - narrated by Leonardo DiCaprio & Thom Hartmann, directed by Leila Conners
THE BIG PICTURE: New DNC Slogan "Better Skills, Better Jobs, Better Wages"…Really?!
BIG PICTURE INTERVIEW: Are Blue Dogs Key To Winning the House? Larry Cohen, Our Revolution/Democracy Initiative
BIG PICTURE PANEL: CEO Wages Soared By AMAZING 937%!
- Mark Anthony, Movement for Black Lives
- Scott Greer, The Daily Caller
…LIVE from Washington, DC starting at 7pm Eastern…
Latest From The Big Picture
27:50
On tonight's Big Picture, Thom discusses the Democratic party's new slogan and strategy and whether it could win them seats in Congress with Larry Cohen of Our Revolution. Then, Thom talks to Mark Anthony of Movement for Black Lives and Scott Greer of the Daily Caller about Al Gore embracing single-payer healthcare, and another fox guarding the hen house in the Trump administration.
For more information on the stories we've covered visit our websites at thomhartmann.com - freespeech.org - and RT.com. You can also watch tonight's show on Hulu - at Hulu.com/THE BIG PICTURE and over at The Big Picture YouTube page. And - be sure to check us out on Facebook and Twitter!
Jul. 21, 2017 2:56 pm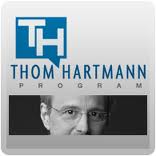 Donald Trump has the power to force anywhere from 22 to 32 million American men, women, and children to lose their health insurance.

There's just one problem: he doesn't seem to understand what health insurance actually is.