Today's Radio Show

Monday-Friday
noon-3:00 pm eastern
Tune in on satellite radio at SiriusXM Progress 127
Join Thom in our chatroom during the program!
Missed the live program?
Subscribe to Thom's podcast
Coming up today on The Thom Hartmann Program - Your Home for the Resistance:
- Congressman Mark Pocan (D-WI, 2nd District) is Taking Your Calls...Have Your Questions Ready!
- China vs. America On Global Ambitions...
- Did antidepressants help make this man a mass-murderer?
...LIVE from Washington, DC starting at 12pm Eastern...
Call in Live!
(202) 808-9925
Tuesday's TV Show

Monday-Friday
7:00 pm-10:30 pm eastern
Be sure to join Thom in our chatroom during the program!

Our newest video is here! Watch RESTORATION - plus check out CARBON, LAST HOURS & GREEN WORLD RISING - narrated by Leonardo DiCaprio & Thom Hartmann, directed by Leila Conners
THE BIG PICTURE: You Can Blame the Koch Brothers for the Healthcare Mess
BIG PICTURE PANEL: Trump's Embarrassing Spectacle....
- Dr. Sanjeev Sriram, MD /Dr. America-We Act Radio
- Bryan Pruitt, RedState
BIG PICTURE INTERVIEW: Prof. Richard Wolff on the "Better Deal" Platform - Economist Dr. Richard Wolff, Capitalism's Crisis Deepens: Essays on the Global Economic Meltdown/Democracy At Work
…LIVE from Washington, DC starting at 7pm Eastern…
Latest From The Big Picture
28:00
On tonight's Big Picture, Thom talks to Dr. Sanjeev Sriram of We Act Radio and Bryan Pruitt of RedState about latest on the Senate healthcare vote and the obscene profits made by CEOs in the healthcare industry. Then, Thom discusses the inequality problem in the United States with economist and professor Richard Wolff.
For more information on the stories we've covered visit our websites at thomhartmann.com - freespeech.org - and RT.com. You can also watch tonight's show on Hulu - at Hulu.com/THE BIG PICTURE and over at The Big Picture YouTube page. And - be sure to check us out on Facebook and Twitter!
Jul. 25, 2017 2:45 pm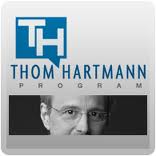 Right-wing oligarchs like the Koch Brothers don't just want to roll back a few regulations - they apparently want to repeal our democracy, too.

Republicans like to wrap themselves in slogans about liberty and freedom, but the truth is that deep down they hate our democracy - and now we have the proof.