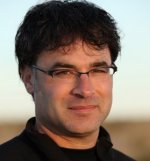 Dahr Jamail - In late 2003, weary of the overall failure of the US media to accurately report on the realities of the war in Iraq for the Iraqi people and US soldiers, Dahr Jamail went to the Middle East to report on the war himself.

Since then, he has become world renowned for documenting the human cost of the Iraq war: the everyday violence and terror, the deterioration of the healthcare system, the shortages of clean water and the resulting rise in sickness, the lack of jobs and economic opportunity, the refugee crisis, and the detention and torture of civilians and resistance fighters. Through his uncompromised reporting and news photos, Dahr reveals a map of Iraq's misery and resistance, politics and everyday survival in the face of overwhelming military destruction. His website offers a forum where readers discover realities of the war not found in the conventional press.

Dahr has spent a total of nine months in occupied Iraq as one of only a few independent US journalists in the country. Dahr has also has reported from Syria, Lebanon and Jordan. He has also reported extensively on veterans' resistance against the war. Dahr uses the his website and his popular mailing list to disseminate his dispatches.

Dahr currently writes for the Inter Press Service, Truthout, Al-Jazeera, and many other outlets. His stories have also been published with The Nation, The Sunday Herald in Scotland, the Guardian, Foreign Policy in Focus, Le Monde Diplomatique, and the Independent to name just a few. Dahr's dispatches and hard news stories have been translated into French, Polish, German, Dutch, Spanish, Japanese, Portuguese, Chinese, Arabic and Turkish. On radio as well as television, Dahr reports for Democracy Now!, has appeared on Al-Jazeera, the BBC and NPR, and numerous other stations around the globe. Dahr is also special correspondent for Flashpoints, and is now an Al-Jazeera online correspondent.

Dahr's reporting has earned him numerous awards, including the prestigious 2008 Martha Gellhorn Award for Journalism, The Lannan Foundation Writing Residency Fellowship, the James Aronson Award for Social Justice Journalism, the Joe A. Callaway Award for Civic Courage, and four Project Censored awards.
More on Dahr Jamail






More people