Sep. 17, 2020 4:43 pm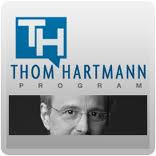 Although they haven't yet publicly acknowledged it in such stark terms, it's clear now that the Trump administration has decided pursue a herd immunity strategy to deal with the coronavirus.
Trump's new White House advisor on coronavirus, Scott Atlas, has said it on numerous occasions in multiple venues, and now our Attorney General, Bill Barr, is trying to argue that lockdowns to prevent the spread of the virus are as bad as slavery. Trying to achieve herd immunity in the United States against the coronavirus, assuming it's even possible, would involve between two and 6 million Americans dying.
Images of Thom
From Cracking the Code:
"In Cracking the Code, Thom Hartmann, America's most popular, informed, and articulate progressive talk show host and political analyst, tells us what makes humans vulnerable to unscrupulous propagandists and what we can do about it. It is essential reading for all Americans who are fed up with right-wing extremists manipulating our minds and politics to promote agendas contrary to our core values and interests."
—
David C. Korten
,
author of The Great Turning: From Empire to Earth Community and When Corporations Rule the World and board chair of YES! magazine
From The Thom Hartmann Reader:
"In an age rife with media-inspired confusion and political cowardice, we yearn for a decent, caring, deeply human soul whose grasp of the problems confronting us provides a light by which we can make our way through the quagmire of lies, distortions, pandering, and hollow self-puffery that strips the American Dream of its promise. How lucky we are, then, to have access to the wit, wisdom, and willingness of Thom Hartmann, who shares with us here that very light, grown out of his own life experience."
—
Mike Farrell
,
actor, political activist, and author of Just Call Me Mike and Of Mule and Man
From Unequal Protection, 2nd Edition:
"Beneath the success and rise of American enterprise is an untold history that is antithetical to every value Americans hold dear. This is a seminal work, a godsend really, a clear message to every citizen about the need to reform our country, laws, and companies."
—
Paul Hawken
,
coauthor of Natural Capitalism and author of The Ecology of Commerce
Thom Hartmann Newsletter
Don't miss out again. Receive our daily rundown of news, show highlights and random musings.
© 2020 Mythical Intelligence, inc.
Drupal site designed and developed by
HollyIT