Today's Headlines From The Hartmann Report
Monday's Radio Show

Monday-Friday
noon-3:00 pm eastern
Tune in on satellite radio at SiriusXM Progress 127
Join Thom in our chatroom during the program!
Missed the live program?
Subscribe to Thom's podcast
Coming up today on The Thom Hartmann Program - Your Home for the Resistance:
- This Is A Big Friggin Deal! Congress Moves To Strike Internet Privacy Rules...
- Bernie Introduces Single Payer Bill...Is It Possible For Government To Be Efficient?
- Do The Billionaires Need A Middle Class & Are They Responsible For All Our Problems?
- Your Questions on Social Security, Medicare & Medicaid...Answered - Alex Lawson, Social Security Works
- Guess What!? America's Terrorists Are Mostly White...
…LIVE from Washington, DC starting at 12pm Eastern…
Call in Live!
(202) 808-9925
Daily Poll
Welfare for Big Business...
94%
A Great Stimulus
6%
Monday's TV Show

Monday-Friday
7:00 pm-10:30 pm eastern
Be sure to join Thom in our chatroom during the program!

Our newest video is here! Watch RESTORATION - plus check out CARBON, LAST HOURS & GREEN WORLD RISING - narrated by Leonardo DiCaprio & Thom Hartmann, directed by Leila Conners
THE BIG PICTURE: With Trumpcare Dead, Singlepayer Lives...
BIG PICTURE INTERVIEW: TrumpCare dies, XL flies--and the secret winner is...? Greg Palast, The Best Democracy Money Can Buy/OpEdNews/The Guardian
BIG PICTURE PANEL: Are Dems Going Bold with Medicare For All?
- Sarah Badawi, Progressive Change Campaign Committee (PCCC)
- Kris Ullman, Conservative Commentator & Activist
BIG PICTURE FACT: Vitamin D May Prevent Autism
…LIVE from Washington, DC starting at 7pm Eastern…
Latest From The Big Picture
27:53
In tonight's Big Picture Interview, Thom talks to investigative reporter Greg Palast about how the Koch brothers scored a big win when Trump decided to re-authorize the Keystone XL Pipeline. In tonight's Politics Panel, Thom talks to conservative commentator Kris Ullman and Sarah Badawi of the Progressive Change Campaign Committee about Bernie Sanders' push for single-payer, the GOP's tax reform scam, and the newest threat to internet privacy.
For more information on the stories we've covered visit our websites at thomhartmann.com - freespeech.org - and RT.com. You can also watch tonight's show on Hulu - at Hulu.com/THE BIG PICTURE and over at The Big Picture YouTube page. And - be sure to check us out on Facebook and Twitter!
Mar. 27, 2017 2:39 pm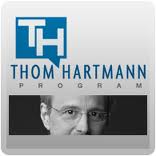 After months of talking about "resistance", Senate Democrats finally appear to be putting their money where their mouth is.

After days of testimony, Senate Democrats have seen enough of Neil Gorsuch - enough to know that they're going to try to filibuster him.

Chuck Schumer made that very clear during a speech yesterday on the senate floor.