Today's Radio Show

Monday-Friday
noon-3:00 pm eastern
Tune in on satellite radio at SiriusXM Progress 127
Join Thom in our chatroom during the program!

Be sure to check out our videos: CARBON, LAST HOURS & GREEN WORLD RISING - narrated by Leonardo DiCaprio
Anything Goes Friday
Hour Two: What you need to know about pay to play politics - John Ennis, Pay 2 Play...catch special showings on Free Speech TV!
Hour Three: War, conflict and...climate change? Professor Richard Seager, Earth Institute-Columbia University
Call in Live!
(202) 536-2370
Daily Poll
YES! The election of President Obama proved MLK's dream had come true.
0% (0 votes)
NO! True racial equality is still a long way off in the United States.
100% (9 votes)
Total votes: 9
Today's TV Show

Monday-Friday
7:00 pm-8:00 pm eastern

Be sure to check out our new videos: CARBON, LAST HOURS & GREEN WORLD RISING - narrated by Leonardo DiCaprio
BIG PICTURE RUMBLE:
- Kris Ullman, Conservative Commentator & Activist
- Christy Setzer, New Heights Communications
- Shelby Emmett, Project 21
BIGGER PICTURE PANEL: 50th Anniversary of Selma's Bloody Sunday march
- Dr. Clarence Lusane, American University / The Black History of the White House
- Hilary Shelton, NAACP
- Joe Madison, The Joe Madison Show
. . . LIVE from D.C. starting at 7pm eastern
Latest From The Big Picture
11:31
John Amato, Crooks and Liars, joins Thom Hartmann. Netflix's hit TV Show "House of Cards" mocks politicians and - well - pretty much everyone who calls Washington, D.C. home. But does it also have a secret agenda hidden right below the surface?
Mar. 6, 2015 7:40 am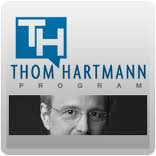 It's anyone's guess as to whether the Affordable Care Act will survive it's latest challenge. This week, the Supreme Court heard arguments in the case of King v. Burwell.