Monday's Radio Show

Monday-Friday
noon-3:00 pm eastern
Tune in on satellite radio at SiriusXM Progress 127
Join Thom in our chatroom during the program!
Missed the live program?
Subscribe to Thom's podcast
Coming up today on The Thom Hartmann Program - Your Home for the Resistance:
President's Day 2017
- America's LugenPress Problem...
- Get ready for The Republican's Tax Scam…
- Who Will Take The Blame for the 2017 Recession - Trump or Obama?
- Is Single Payer Coming to California? Wendell Potter, Deadly Spin/Nation on the Take/Tarbell
...LIVE from Washington, DC starting at 12pm Eastern...
Call in Live!
(202) 808-9925
Monday's TV Show

Monday-Friday
7:00 pm-10:30 pm eastern
Be sure to join Thom in our chatroom during the program!

Our newest video is here! Watch RESTORATION - plus check out CARBON, LAST HOURS & GREEN WORLD RISING - narrated by Leonardo DiCaprio & Thom Hartmann, directed by Leila Conners
THE BIG PICTURE: How Runaway Inequality Can Defeat Trump...
BIG PICTURE INTERVIEW: Runaway Inequality Elected & Can take Down Trump - Les Leopold, The Labor Institute/Runaway Inequality: An Activist's Guide to Economic Justice
BIG PICTURE PANEL: It's Fake News But We Want To Regulate It
- David Halperin, Republic Report & Huffington Post
- Eleanor Goldfield, Act Out!-Occupy.com
BIG PICTURE FACT: What You Didn't Know About Soil...
...LIVE from Washington, DC starting at 7pm Eastern...
Latest From The Big Picture
27:50
For more information on the stories we've covered visit our websites at thomhartmann.com - freespeech.org - and RT.com. You can also watch tonight's show on Hulu - at Hulu.com/THE BIG PICTURE and over at The Big Picture YouTube page. And - be sure to check us out on Facebook and Twitter!On tonight's Big Picture, Thom discusses income inequality and how it can help take down Trump with Les Leopold of the Labor Institute. Then, Thom talks to David Halperin of RepublicReport.org and activist Eleanor Goldfield about Republicans lashing out at town halls and what the Democratic Party might look like if Keith Ellison heads the DNC.
Feb. 20, 2017 2:54 pm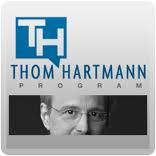 With the help of Democrats Joe Manchin of West Virginia and Heidi Heitkamp of North Dakota, Republicans in the Senate on Friday confirmed Scott Pruitt to lead the Environmental Protection Agency - an agency that Pruitt sued no less than 13 times during his tenure as Oklahoma Attorney General.