Today's Radio Show

Monday-Friday
noon-3:00 pm eastern
Tune in on satellite radio at SiriusXM Progress 127
Join Thom in our chatroom during the program!

Be sure to check out our new videos: CARBON, LAST HOURS & GREEN WORLD RISING - narrated by Leonardo DiCaprio
Hour One: The Bush fear machine is baaaack... Mike Papantonio, Ring of Fire Radio / Plus, our newest video debuts - Episode 3: Green World Rising / AND, why we need the new Right to Vote Act - Senator Barbara Boxer (D-CA)
Hour Two: EXPOSED-GOP purge threatens millions of voters - Investigative Journalist Greg Palast
Hour Three: Would you Pay Any Price? NY Times journalist James Risen, Pay Any Price: Greed, Power and Endless War
Call in Live!
1-866-987-THOM (8466)
1-866-745-CONS (2667)
+ 44 870 974 9686
Daily Poll
YES! We must prevent the spread of Ebola at all costs.
18% (2 votes)
NO! It will lead to nurses & doctors refusing to help.
82% (9 votes)
Total votes: 11
Wednesday's TV Show

Monday-Friday
7:00 pm-8:00 pm eastern

Be sure to check out our new videos: CARBON & LAST HOURS
- both narrated by Leonardo DiCaprio
LONE LIBERAL RUMBLE:
- Charles Sauer, The Market Institute
- Horace Cooper, National Center for Public Policy Research

CONVERSATIONS WITH GREAT MINDS: Dr. Seyyed Hossein Nasr, George Washington University / Nasr Foundation
. . . LIVE from D.C. starting at 7pm eastern
Latest From The Big Picture
58:00
Tonight's "Lone Liberal Rumble" discusses the secret money funneling into the McConnell campaign in Kentucky, how corporations are now trying to buy Attorneys General and the new Scott Walker ad supporting equal pay after he repealed Wisconsin's equal pay law. In tonight's special Wednesday edition of "Conversations with Great Minds" Thom talks the religion of Islam with Seyyed Hossein Nasr, Professor of Islamic Studies at The George Washington University.
Oct. 29, 2014 8:02 am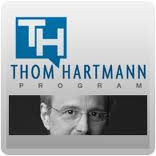 NPR is supposed to be our national public radio, but they're barely covering climate issues that are in the public's interest.

Only one month ago, a national New York Times/CBS News poll found that half of all Americans think that global warming is already having a serious impact. Sixty percent of those surveyed even said that protecting our environment should be a priority "even at the risk of curbing economic growth."