Today's Radio Show

Monday-Friday
noon-3:00 pm eastern
Tune in on satellite radio at SiriusXM Progress 127
Join Thom in our chatroom during the program!

Be sure to check out our videos: CARBON, LAST HOURS & GREEN WORLD RISING - narrated by Leonardo DiCaprio
Hour One: Brunch With Bernie - Senator Bernie Sanders (I-VT) takes your calls
Call in Live!
(202) 536-2370
Daily Poll
YES! The entire force should be fired and replaced!
83% (10 votes)
NO! Those responsible have already been terminated.
17% (2 votes)
Total votes: 12
Today's TV Show

Monday-Friday
7:00 pm-8:00 pm eastern

Be sure to check out our new videos: CARBON, LAST HOURS & GREEN WORLD RISING - narrated by Leonardo DiCaprio
NEED TO KNOW: Are the New Dems Sucking Us Dry? John Amato, Crooks and Liars
SCREWED: The Racially-Charged Ferguson Police Exposed - Goldie Taylor, Blue Nation Review
BEST OF THE REST: The Methane Bomb is Ticking
GREEN REPORT: Why did OK Hide the Fact Fracking Causes Earthquakes? Shane Davis, Fractivist
DAILY TAKE: Our Planet's Lungs are Dying
. . . LIVE from D.C. starting at 7pm eastern
Latest From The Big Picture
57:20
In tonight's show, Thom discusses Netflix's "House of Cards" hidden agenda and the real-life Frank Underwood's with John Amato, author of Over the Cliff: How Obama's Election Drove the American Right Insane.
Goldie Taylor of the Blue Nation Review talks live from Ferguson, MO about the Department of Justice report on findings of racism and revenue hoarding by the Ferguson police department. Fractivist Shane Davis talks Oklahoma fracking and earthquakes in the Sooner State.
A special segment of "Last Hours," the frightening reality of global climate change, narrated by Thom Hartmann and Leonardo DiCaprio.
Thom gives his Daily Take, plus Your Take My Take Live and The Good The Bad and The Very Very Ugly.
Mar. 5, 2015 10:54 am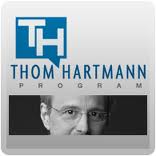 Trees are like our planet's lungs. Every second of every day, they're absorbing CO2 from the atmosphere, and converting it into energy.

In fact, according to a study by researchers at NASA, each year, tropical rainforests absorb a staggering 1.4 billion metric tons of CO2 from Earth's atmosphere.