Thom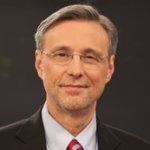 Thom Hartmann is a progressive national and internationally syndicated talkshow host whose shows are available in over a half-billion homes worldwide. He's the New York Times bestselling, 4-times Project Censored Award winning author of 24 books in print in 17 languages on five continents. Leonardo DiCaprio was inspired by Thom's book "The Last Hours of Ancient S
Thom's Blog
Feb. 20, 2017 2:54 pm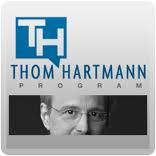 With the help of Democrats Joe Manchin of West Virginia and Heidi Heitkamp of North Dakota, Republicans in the Senate on Friday confirmed Scott Pruitt to lead the Environmental Protection Agency - an agency that Pruitt sued no less than 13 times during his tenure as Oklahoma Attorney General.

From The Thom Hartmann Reader:
"Thom is a national treasure. Read him, embrace him, learn from him, and follow him as we all work for social change."
From The Thom Hartmann Reader:
"Thom Hartmann is a creative thinker and committed small-d democrat. He has dealt with a wide range of topics throughout his life, and this book provides an excellent cross section. The Thom Hartmann Reader will make people both angry and motivated to act."
From The Thom Hartmann Reader:
"With the ever-growing influence of corporate CEOs and their right-wing allies in all aspects of American life, Hartmann's work is more relevant than ever. Throughout his career, Hartmann has spoken compellingly about the value of people-centered democracy and the challenges that millions of ordinary Americans face today as a result of a dogma dedicated to putting profit above all else. This collection is a rousing call for Americans to work together and put people first again."
From Cracking the Code:
"In Cracking the Code, Thom Hartmann, America's most popular, informed, and articulate progressive talk show host and political analyst, tells us what makes humans vulnerable to unscrupulous propagandists and what we can do about it. It is essential reading for all Americans who are fed up with right-wing extremists manipulating our minds and politics to promote agendas contrary to our core values and interests."
From The Thom Hartmann Reader:
"Thom Hartmann is a literary descendent of Ben Franklin and Tom Paine. His unflinching observations and deep passion inspire us to explore contemporary culture, politics, and economics; challenge us to face the facts of the societies we are creating; and empower us to demand a better world for our children and grandchildren."