Thom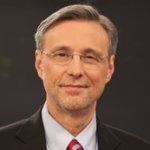 Thom Hartmann is a progressive national and internationally syndicated talkshow host whose shows are available in over a half-billion homes worldwide. He's the New York Times bestselling, 4-times Project Censored Award winning author of 24 books in print in 17 languages on five continents. Leonardo DiCaprio was inspired by Thom's book "The Last Hours of Ancient S
Thom's Blog
Jul. 31, 2015 5:39 am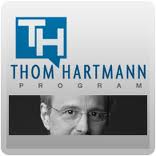 You need to know this... Support for Donald Trump's campaign is still growing nationally, and in early primary states, but he's not just gaining support in early primary states. A new poll from Florida shows that Trump is leading Jeb by 6 percentage points - and he's leading Rubio by 16 points.

From The Thom Hartmann Reader:
"Thom is a national treasure. Read him, embrace him, learn from him, and follow him as we all work for social change."
From Screwed:
"Hartmann speaks with the straight talking clarity and brilliance of a modern day Tom Paine as he exposes the intentional and systematic destruction of America's middle class by an alliance of political con artists and outlines a program to restore it. This is Hartmann at his best. Essential reading for those interested in restoring the institution that made America the envy of the world."
From The Thom Hartmann Reader:
"Thom Hartmann channels the best of the American Founders with voice and pen. His deep attachment to a democratic civil society is just the medicine America needs."
From Screwed:
"I think many of us recognize that for all but the wealthiest, life in America is getting increasingly hard. Screwed explores why, showing how this is no accidental process, but rather the product of conscious political choices, choices we can change with enough courage and commitment. Like all of Thom's great work, it helps show us the way forward."
From Screwed:
"If we are going to live in a Democracy, we need to have a healthy middle class. Thom Hartmann shows us how the 'cons' have wronged this country, and tells us what needs to be done to reclaim what it is to be American."