Thom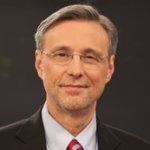 Thom Hartmann is a progressive national and internationally syndicated talkshow host whose shows are available in over a half-billion homes worldwide. He's the New York Times bestselling, 4-times Project Censored Award winning author of 24 books in print in 17 languages on five continents. Leonardo DiCaprio was inspired by Thom's book "The Last Hours of Ancient S
Thom's Blog

Oct. 22, 2014 3:18 pm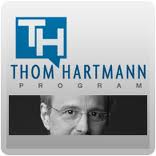 When Eric Holder eventually steps down as Attorney General, he will leave behind a complicated legacy, some of it tragic, like his decision not to prosecute Wall Street after the financial crisis, and his all-out war on whistleblowers like Edward Snowden.
From The Thom Hartmann Reader:
"Through compelling personal stories, Hartmann presents a dramatic and deeply disturbing picture of humans as a profoundly troubled species. Hope lies in his inspiring vision of our enormous unrealized potential and his description of the path to its realization."
From The Thom Hartmann Reader:
"Thom Hartmann is a creative thinker and committed small-d democrat. He has dealt with a wide range of topics throughout his life, and this book provides an excellent cross section. The Thom Hartmann Reader will make people both angry and motivated to act."
From Cracking the Code:
"In Cracking the Code, Thom Hartmann, America's most popular, informed, and articulate progressive talk show host and political analyst, tells us what makes humans vulnerable to unscrupulous propagandists and what we can do about it. It is essential reading for all Americans who are fed up with right-wing extremists manipulating our minds and politics to promote agendas contrary to our core values and interests."
From The Thom Hartmann Reader:
"Never one to shy away from the truth, Thom Hartmann's collected works are inspiring, wise, and compelling. His work lights the way to a better America."
From The Thom Hartmann Reader:
"In an age rife with media-inspired confusion and political cowardice, we yearn for a decent, caring, deeply human soul whose grasp of the problems confronting us provides a light by which we can make our way through the quagmire of lies, distortions, pandering, and hollow self-puffery that strips the American Dream of its promise. How lucky we are, then, to have access to the wit, wisdom, and willingness of Thom Hartmann, who shares with us here that very light, grown out of his own life experience."