Mar. 13, 2021 11:25 am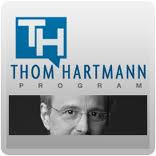 Hello All
Thom's blog in this space and moving to a new home.
Please follow us across to hartmannreport.com - this will be the only place going forward to read Thom's blog posts and articles.
At the Hartmann Report, you can start a free subscription and read all of Thom's blog posts, plus some special extras going forward.
The new home also means that you can receive Thom's words of wisdom in your email inbox.
We will preserve the twelve years of blog posts here at thomhartmann.com as a permanent archive and will switch off all commenting here shortly.
We look forward to welcoming you to our new home for the blog.
With best wishes from Thom and the team.
-Nigel-
Thom's Webmaster