Today's Radio Show

Monday-Friday
noon-3:00 pm eastern
Tune in on satellite radio at SiriusXM Progress 127
Join Thom on our YouTube and Facebook pages during the show.
Missed the live program?
Subscribe to Thom's podcast
Coming up today on The Thom Hartmann Program - Your Home for the Resistance:
...LIVE from 12-3pm Eastern...Check out our Facebook page for what's on the show today...and follow Thom on Twitter
Help Name Thom's New Book!
While the United States has a long and sordid history of violence against both indigenous people and enslaved people, it's largely in the past 40 years that we've seen an explosion in something virtually unknown in the rest of the world: school shootings. This Gun Book examines where this proclivity for gun violence that's so deeply embedded in the American psyche came from. By learning and understanding our history, we can begin the process of recovering from it. Finally, you'll find clear, simple and effective solutions (that work within the boundaries of the Constitution as interpreted by the Supreme Court) to our gun violence crisis. We ask for your help in selecting the best title and subtitle for the new book by Thom Hartmann, New York Times bestselling author and one of America's most popular radio hosts. Please take a few minutes to complete a quick 8-question title survey. We ask for your response by 2:00 pm Pacific time this Thursday, August 23. To take the survey, click on this link:
https://www.surveymonkey.com/r/LNB8GDJ
Call in Live!
(202) 808-9925
Got A Rant???
You, too, can be a talk show host! Or at least get your rant out to our 6.25 million-listener audience.
Got a rant that you'd like to share with others, and would like to have highlighted on the Thom Hartmann Program?
Upload yours to YouTube, and then post it here. The time limit is 2 minutes (shorter is even better), and, of course, no obscenity, threats, or depictions or words that can't be said on the radio or TV.
Every month, we'll select one or two to play on the air.
Mar. 9, 2018 3:32 pm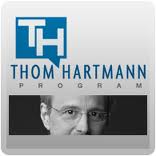 It's time to run bigger, better and harder on trade policies.