Today's Headlines From The Hartmann Report
Today's Radio Show

Monday-Friday
noon-3:00 pm eastern
Tune in on satellite radio at SiriusXM Progress 127
Join Thom in our chatroom during the program!
Missed the live program?
Subscribe to Thom's podcast
Coming up today on The Thom Hartmann Program:
- About Those CEOs Who Put Profit Over Country...
- Lakota vs. Bundys...The Tale of Two Protests - Michael R. McLean, Jacobin Magazine
- The GOP's Stealth War on Voters - Greg Palast, Rolling Stone Magazine
...LIVE from Washington, DC starting at 12pm Eastern...
Call in Live!
(202) 808-9925
Daily Poll
Yes!
0%
No!
0%
Don't know! He flips/flops 2 or 3 times a day.....
100%
Wednesday's TV Show

Monday-Friday
7:00 pm-8:00 pm eastern
Be sure to join Thom in our chatroom during the program!

Our newest video is here! Watch RESTORATION - plus check out CARBON, LAST HOURS & GREEN WORLD RISING - narrated by Leonardo DiCaprio & Thom Hartmann, directed by Leila Conners
BIG PICTURE RUMBLE:
- Jason Russell, Washington Examiner
- Zaid Jilani, The Intercept
- Alex Pfeiffer, The Daily Caller
BEST OF THE REST: Proof Bailing Out Nuclear Plants Is Bad! Harvey Wasserman, Solartopia/STRIP & FLIP SELECTION OF 2016: Five Jim Crows & Electronic Election Theft
PLUS, Trump's "Climate Change Is a Scam" - Cassady Sharp, Greenpeace USA
GREEN REPORT: Tribal Rights & the Dakota Access Pipeline - Bobbi Jean Three Legs, ReZpect Our Water/Standing Rock Sioux Tribe
DAILY TAKE: How Funding the Vote, Schools & Police Could Change
...LIVE from Washington, DC starting at 7pm Eastern...
Latest From The Big Picture
04:55
If we want to fix voting in America - then we need to do away with local control once and for all.
For more information on the stories we've covered visit our websites at thomhartmann.com - freespeech.org - and RT.com. You can also watch tonight's show on Hulu - at Hulu.com/THE BIG PICTURE and over at The Big Picture YouTube page. And - be sure to check us out on Facebook and Twitter!
Aug. 24, 2016 2:15 pm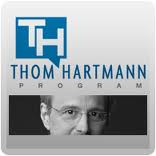 One of the most amazing things about Donald Trump as a presidential candidate is his ability to say something interesting or at least hint at something interesting when he appears to be saying absolutely nothing.