Today's Headlines From The Hartmann Report
Today's Radio Show

Monday-Friday
noon-3:00 pm eastern
Tune in on satellite radio at SiriusXM Progress 127
Join Thom in our chatroom during the program!
Missed the live program?
Subscribe to Thom's podcast
Coming up today on The Thom Hartmann Program:
Call in Live!
(202) 808-9925
Daily Poll
Never - The FBI director is more interested in Clinton's email server than in Banksters...
73%
Yes - Some day it will happen....
27%
Today's TV Show

Monday-Friday
7:00 pm-8:00 pm eastern
Be sure to join Thom in our chatroom during the program!

Our newest video is here! Watch RESTORATION - plus check out CARBON, LAST HOURS & GREEN WORLD RISING - narrated by Leonardo DiCaprio & Thom Hartmann, directed by Leila Conners
SPECIAL PRESIDENTIAL DEBATE PANEL:
- Brian Darling, Conservative Review/(formerly) Office of Senator Rand Paul
- Mike Lux, DNC
- Bryan Pruitt, RedState
BEST OF THE REST: Candidates & Climate Change - Cassady Sharp-Craighill, Greenpeace USA
DAILY TAKE: We Have All Won An Oligarchy & Lost A Democracy
...LIVE from Washington, DC starting at 7pm Eastern nightly (M-F)...
Latest From The Big Picture
57:35
Thom discusses the release of the cell phone video in the Keith Scott case with former DC police officer Ron Hampton, attorney Debbie Hines, and activists Kymone Freeman and Eugene Puryear. Tonight's Rumble discusses whether we should trust the police, the lack of policy coverage by the media in the presidential race, and new catastrophic news on climate change.
For more information on the stories we've covered visit our websites at thomhartmann.com - freespeech.org - and RT.com. You can also watch tonight's show on Hulu - at Hulu.com/THE BIG PICTURE and over at The Big Picture YouTube page. And - be sure to check us out on Facebook and Twitter!
Sep. 26, 2016 2:24 pm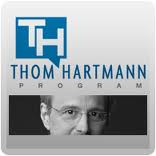 Here's a thought experiment for you. Ask yourself, "When was the last time I heard any conversation at all about the role of corporations in America in the American public media?"

In the abstract, it seems like a silly question. So let me rephrase it: