--

---
Become a Thom Supporter and Help Us Keep Our Non-Profit Stations on the Air
Patreon support is used to fund the cost of providing the program to the non-profit community radio and TV sectors.
Tier 1 - Supporter (thank you0
Tier 2 - Weekly supporter-only rant from Thom
Tier 3+ - Access to the re-run of the three-hour program at a time to suit you
Our New Members Only Rant Video:
Trump and the Veterans
Discover what Trump is doing at Mar a Lago. It's frightening.
Sign by up clicking here.
Monday's Radio Show

Monday-Friday
noon-3:00 pm eastern
Tune in on satellite radio at SiriusXM Progress 127
Join Thom on our YouTube and Facebook pages during the show.
Missed the live program?
Subscribe to Thom's podcast
Coming up today on The Thom Hartmann Program - Your Home for the Resistance:
Call in Live!
(202) 808-9925

This Week on the
Science Revolution
Heat, Sea Levels and the Amazon...Oh My!
Dr. Michael Mann is here on how much the lockdown has reduced carbon pollution- the answer will surprise you. And, environmental scientist & writer Dana Nuccitelli drops by on Michael Moore's 'Planet of the Humans' documentary; he explains how it peddles dangerous climate denial information. Plus - Journalist David Sirota is exposing the coronavirus coverup. In Geeky Science I'm discussing the importance of biodiversity and how the future of the Amazon may depend on tapir poop.
Listen Here & Subscribe - The Science Revolution w/Thom Hartmann on Apple Podcasts
May. 27, 2020 4:51 pm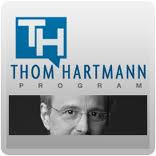 Donald Trump and Jair Bolsonaro, presidents of the United States and Brazil, are essentially refusing to do anything consequential about an epidemic that is killing massive numbers of their own countries' citizens.