--

---
Become a Thom Supporter and Help Us Meet the Goal of 1,000 Supporters
Patreon support is used to fund the cost of providing the program to the non-profit community radio and TV sectors.
Tier 1 - Supporter (thank you0
Tier 2 - Weekly supporter-only rant from Thom
Tier 3+ - Access to the re-run of the three-hour program at a time to suit you
Our New Members Only Rant Video:
Trump and the Veterans
Discover what Trump is doing at Mar a Lago. It's frightening.
Sign by up clicking here.
Monday's Radio Show

Monday-Friday
noon-3:00 pm eastern
Tune in on satellite radio at SiriusXM Progress 127
Join Thom on our YouTube and Facebook pages during the show.
Missed the live program?
Subscribe to Thom's podcast
Coming up today on The Thom Hartmann Program - Your Home for the Resistance:
Call in Live!
(202) 808-9925

This Week on the
Science Revolution
The Truth about Corona Virus Testing
Today on The Science Revolution - What's the truth on corona virus testing? And- why has Trump refused to accept the affordable World Health Organization test that the entire rest of the world is using?.. Melinda St. Louis is here on how health insurers' conduct is "outrageous" given the coronavirus pandemic.. Robert Weissman on how Public Citizen and 70 other organizations are calling on Trump to prevent big-pharma from profiteering on the pandemic... And Kevin Kamps from Beyond Nuclear is also here about the ongoing Fukushima disaster... In Geeky Science - find out what happens if you walk just 30 minutes a day. Check it out...
Listen Here & Subscribe - The Science Revolution w/Thom Hartmann on Apple Podcasts
Apr. 7, 2020 5:09 pm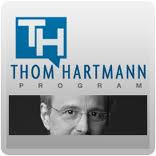 The Republican war on voting rolls on. The Republican-controlled Wisconsin Supreme Court, and the Republican-controlled US Supreme Court have both, over the loud objection of their own members, ruled that physical, in-person elections must happen in Wisconsin today.